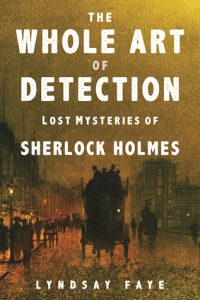 Title:

The Whole Art of Detection: Lost Mysteries of Sherlock Holmes

by Lyndsay Faye
Published by Mysterious Press
Published: March 7th 2017
Genres: Mystery
Pages: 352
Format: Hardcover
Source: Purchased
Goodreads


In the broad light of day, I could not give his tale nearly so much credence as I had granted it when sitting rapt before a midnight fireplace whilst the tempest without erased the natural world.
One of the things I love about Lyndsay Faye's books are that they evoke the atmosphere of the period of which she writes. Especially her Sherlock Holmes pastiches. Somehow she manages to capture Doyle's style with a sense of freshness that especially makes The Whole Art of Detection really feel like lost Holmes mysteries. After reading Dust and Shadow and Jane Steele, I wanted to read more of her works and jumped at purchasing The Whole Art of Detection not long after it was released. I read a story or two here and there for the next couple of months because I wanted to savor it, and I'm glad I did. If you enjoyed the original stories, this collection of stories feels like a more intimate peek into the lives of Holmes and Watson. Where the originals seemed to gloss over the "domestic stuff and conversations," this collection doesn't shy from it.
A few of the stories that stood out to me were the these: "Memoranda Upon the Gaskell Blackmailing Dilemma" takes place during The Hound of the Baskervilles and is Sherlock Holmes's perspective while he takes leave from the Watsons during that story. It's so much fun to read a story from another character's perspective, and even more so to have that perspective be the elusive Holmes himself.  "An Empty House" is heartbreaking and bridges the gap between the Reichenbach Fall and Holmes's return. "The Adventure of the Memento Mori" is creepy, thrilling, and shows us readers once again that Holmes has a heart underneath that cold, calculating exterior he tries to project. "The Adventure of the Lightless Maiden" captures Doyle's obsession with the supernatural, and I thought it was just really well done overall.
All of these stories feel at once rooted in time and timeless, and Faye manages this with her effortless, captivating writing. If you're a fan of Sherlock Holmes in any capacity and love a good historical mystery, read this right away.