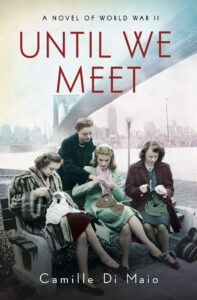 Title:

Until We Meet

by Camille Di Maio
Published by Forever
Published: March 1st 2022
Genres: Historical, Fiction
Pages: 384
Format: Trade Paper
Source: Publisher
Buy: Bookshop(afflilate link)
Goodreads


A poignant and page-turning story of three women whose lives are forever changed by war.…

New York City, 1943
Can one small act change the course of a life?
Margaret's job at the Navy Yard brings her freedoms she never dared imagine, but she wants to do something more personal to help the war effort. Knitting socks for soldiers is a way to occupy her quiet nights and provide comfort to the boys abroad. But when a note she tucks inside one of her socks sparks a relationship with a long-distance pen pal, she finds herself drawn to a man she's never even met.

Can a woman hold on to her independence if she gives away her heart?
Gladys has been waiting her whole life for the kinds of opportunities available to her now that so many men are fighting overseas. She's not going to waste a single one. And she's not going to let her two best friends waste them either. Then she meets someone who values her opinions as much as she likes giving them, and suddenly she is questioning everything she once held dear.

Can an unwed mother survive on her own?
Dottie is in a dire situation—she's pregnant, her fiancé is off fighting the war, and if her parents find out about the baby, they'll send her away and make her give up her child. Knitting helps take her mind off her uncertain future—until the worst happens and she must lean on her friends like never before.

With their worlds changing in unimaginable ways, Margaret, Gladys, and Dottie will learn that the unbreakable bond of friendship between them is what matters most of all.
Until We Meet
is one of my favorite styles of historical women's fiction/romance incorporating interesting and realistic characters, strong friendships, and a romance developed through letter-writing. Three best friends who live and work and aid the war efforts through working in the naval yard, working on the USS Missouri, and knitting socks for soldiers overseas try to make sense and stability through the difficulties the war has brought to themselves and their families.
One of the things I absolutely loved about the structure of the book is the easy flow between Margaret and the man to whom she is writing. The multiple perspectives bring into focus both the immediacy and the distance war puts between home and the self. And while the book is a well-paced and easy read, it doesn't shy away from the truths of war and the truths in what happens to the individual during war. The characters and setting are incredibly well-crafted, and I felt all of what the characters felt along with them. The friendships among Margaret, Dottie, and Gladys felt so real with their ups and downs, the efforts they put to help each other through their own personal and professional challenges, and it felt like a true representation of what good, supportive friendship between women is supposed to be. I also loved the developing romance between Margaret and Tom, whose true identity is revealed later, and that they seemed to recognize each other at first sight upon his return. Aside from a connection built through the written word, I absolutely love that at first sight, I knew trope.
Overall, this is a solid historical fiction/romance with a great cast of characters that will have you feeling everything from joy to dispair to hope, and it's perfect for your summer reading bag!!
Many thanks to BooksForward and Forever for sending a complimentary copy my way! All opinions are my own.