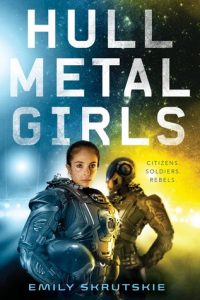 Title:

Hullmetal Girls

by Emily Skrutskie
Published by Delacorte
Published: July 17th 2018
Genres: Science Fiction, Young Adult
Pages: 320
Format: eBook
Source: Netgalley, Publisher
Goodreads


Aisha Un-Haad would do anything for her family. When her brother contracts a plague, she knows her janitor's salary isn't enough to fund his treatment. So she volunteers to become a Scela, a mechanically enhanced soldier sworn to protect and serve the governing body of the Fleet, the collective of starships they call home. If Aisha can survive the harrowing modifications and earn an elite place in the Scela ranks, she may be able to save her brother.

Key Tanaka awakens in a Scela body with only hazy memories of her life before. She knows she's from the privileged end of the Fleet, but she has no recollection of why she chose to give up a life of luxury to become a hulking cyborg soldier. If she can make it through the training, she might have a shot at recovering her missing past.

In a unit of new recruits vying for top placement, Aisha's and Key's paths collide, and the two must learn to work together--a tall order for girls from opposite ends of the Fleet. But a rebellion is stirring, pitting those who yearn for independence from the Fleet against a government struggling to maintain unity.

With violence brewing and dark secrets surfacing, Aisha and Key find themselves questioning their loyalties. They will have to put aside their differences, though, if they want to keep humanity from tearing itself apart.
Emily Skrutskie's 
Hullmetal Girls
is what I've been wanting to see from YA science fiction for what feels like forever! A lot of the "science fiction" YA books I've read in the last several years have been more science 
fantasy
, or they've been shelved in the adult science fiction/fantasy section, which can keep titles out of view of their targeted audiences. And I'm happy to say that I absolutely LOVED
Hullmetal Girls
.
Emily calls it her "standalone sci-fi Battlestar/Pacific Rim/Sens8/Snowpiercer frolic affectionately known as Cyborg Space Jam" and in addition to loving the premise of it before, seeing her own blurb of it made me want to read it even more. It definitely lives up to that tagline, and I also can't tell you how much I love that it's a standalone. I sometimes feel a little burnt out on series, so knowing that this is it for these characters made me get that much more invested in the story.
Hullmetal Girls will make you think about bodies, about the role of bodies and physical forms in society versus what's going on in your mind or someone else's (or, daresay, a collective), and about challenges and consequences do to the spirit before, during, and after action or inaction. I loved that the cyborg aspect had a little bit of alien/artificial intelligence thrown in and that the body modifications ended up being more of a symbiosis kind of meld rather than the body merely being a host for the implants and modifications.
If you liked Kameron Hurley's The Stars Are Legion (which, SPOILER ALERT, that's one of my favorite science fiction books ever), Hullmetal Girls is something you need to add to your TBRs immediately because the styles and themes are very much riding on the same wavelengths. RIGHT NOW! Go preorder it! I'm buying myself a physical copy too!
Many thanks to Netgalley and Delacorte for the free review copy!