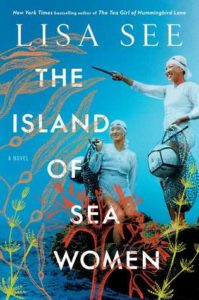 Title:

The Island of Sea Women

by Lisa See
Published by Scribner
Published: March 5th 2019
Genres: Fiction, Historical
Pages: 384
Format: Trade Paper
Source: Publisher
Goodreads


A new novel from Lisa See, the New York Times bestselling author of The Tea Girl of Hummingbird Lane, about female friendship and family secrets on a small Korean island.

Mi-ja and Young-sook, two girls living on the Korean island of Jeju, are best friends that come from very different backgrounds. When they are old enough, they begin working in the sea with their village's all-female diving collective, led by Young-sook's mother. As the girls take up their positions as baby divers, they know they are beginning a life of excitement and responsibility but also danger.

Despite their love for each other, Mi-ja and Young-sook's differences are impossible to ignore. The Island of Sea Women is an epoch set over many decades, beginning during a period of Japanese colonialism in the 1930s and 1940s, followed by World War II, the Korean War and its aftermath, through the era of cell phones and wet suits for the women divers. Throughout this time, the residents of Jeju find themselves caught between warring empires. Mi-ja is the daughter of a Japanese collaborator, and she will forever be marked by this association. Young-sook was born into a long line of haenyeo and will inherit her mother's position leading the divers in their village. Little do the two friends know that after surviving hundreds of dives and developing the closest of bonds, forces outside their control will push their friendship to the breaking point.

This beautiful, thoughtful novel illuminates a world turned upside down, one where the women are in charge, engaging in dangerous physical work, and the men take care of the children. A classic Lisa See story—one of women's friendships and the larger forces that shape them—The Island of Sea Women introduces readers to the fierce and unforgettable female divers of Jeju Island and the dramatic history that shaped their lives.
Lisa See's new book, out March 5, is a stunning story of two women separated by tragedy. Set mostly on Jeju Island before, during, and after World War II, See explores the strength and tribulations of women in all aspects of their lives — from their work as haenyo (deep sea divers), mothers, daughters, sisters, friends — and brings history to life through the lives of two friends: Young-sook and Mjia.
Told through interweaving timelines, from the more distant past of pre- and post-WWII to the more recent past of 2008, See takes us to Jeju Island through the eyes of Young-sook as she grows up, learns to dive and provide for herself and her family, marries, starts a family of her own, and struggles to survive through WWII and its aftermath. It's a brutal history, devastating from all angles, that See weaves into the life of Young-Sook, but it's incredibly empowering and a pleasure to read as the book is a testament to the strength and resilience of women.
I will admit, before reading this, I had very vague knowledge of Korea's involvement in WWII (as I grow older, I realize how much of my history education stopped around the Industrial Revolution at the turn of the century and didn't seem to focus much on the World Wars or anything after, and this is something I am actively rectifying!), and I no prior knowledge of Jeju Island, the matriarchal culture, and the haenyo. After reading this and being so intrigued by these women's lives, I definitely want to read more about it. See's book Snow Flower and the Secret Fan is one of my favorite books of all time. It's been several years since I revisited her work, and I'm delighted by the relationship between two women and their families in The Island of Sea Women. I now want to go back and read the books of hers I haven't read yet because I think See is a master at weaving in the personal, private lives of women with extraordinary circumstances in history.
The Island of Sea Women is already one of my favorite books of 2019, so don't miss it!
Thank you to Scribner Books for sending me a complimentary advance copy to read and review. All opinions are my own.