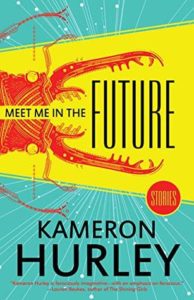 Title:

Meet Me in the Future: Stories

by Kameron Hurley
Published by Tachyon Publications
Published: August 20th 2019
Genres: Science Fiction
Pages: 288
Format: ARC
Source: Netgalley
Goodreads


"One of the best story collections of the past few years." —Booklist, starred review"16 hard-edged pieces that gleam like gems in a mosaic." —Publishers Weekly, starred review"Kameron Hurley is a badass." —Annalee Newitz, author of Autonomous

When renegade author Kameron Hurley (The Light Brigade; The Stars Are Legion) takes you to the future, be prepared for the unexpected. Yes, it will be dangerous, frequently brutal, and often devastating. But it's also savagely funny, deliriously strange, and absolutely brimming with adventure.

In these edgy, unexpected tales, a body-hopping mercenary avenges his pet elephant, and an orphan falls in love with a sentient starship. Fighters ally to power a reality-bending engine, and a swamp-dwelling introvert tries to save the world—from her plague-casting former wife.

So come meet Kameron Hurley in the future. The version she's created here is weirder—and far more hopeful—than you could ever imagine.
Any time I can get my hands on new Kameron Hurley, I'm all over it. Ever since I read
The Stars are Legion,
Hurley has quickly become one of my favorite authors. Her view of the world in which we live is calculating, messy, and true, and the stories she writes hit me right in the feels and make me want to help lead the revolution.
What I've liked most about Hurley's writing is that her women are allowed to be messy, morally grey, and emotional without feeling like these women are losing their "worth" or "humanity" for being any of those things. The themes of war and resistance she explores in her stories are heavy, unrelenting, and often gruesome, but there always manages to be some threads of hope winding their ways through the stories. War is central to the story in the sense that it informs the trajectory of the characters. War has either happened, is happening, or will happen, but it's the individual themselves who really tend to make a difference in the grand scheme of war's grandiose effects.
The stories that I enjoyed the most were "Elephants and Corpses," "When We Fall," and "The Corpse Archives;" but all of them were so good, and I couldn't wait to read the next one. Her introduction is sublime in exploring what drives her to write the stories she writes as well, so don't skip that. Sometimes I feel as if it's very rare for a single author's collection of stories to be so cohesive and yet so diverse, but Kameron Hurley knocks it out of the park with this one.
Whether or not you've read Hurley before, if you're a sci-fi reader and want to read something that will leave you thinking about the what-ifs, definitely check this out.
Thank you to Tachyon Pub for a digital review copy! All opinions are my own.