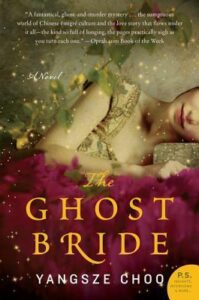 Title:

The Ghost Bride

by Yangsze Choo
Published by William Morrow Paperbacks
Published: August 5th 2014
Genres: Fiction, Historical, Fantasy
Pages: 354
Format: Trade Paper
Source: Purchased
Buy: Bookshop(afflilate link)
Goodreads


Yangsze Choo's stunning debut, The Ghost Bride, is a startlingly original novel infused with Chinese folklore, romantic intrigue, and unexpected supernatural twists, reminiscent of Lisa See's Peony in Love and Amy Tan's The Bonesetter's Daughter.

Li Lan, the daughter of a respectable Chinese family in colonial Malaysia, hopes for a favorable marriage, but her father has lost his fortune, and she has few suitors. Instead, the wealthy Lim family urges her to become a "ghost bride" for their son, who has recently died under mysterious circumstances. Rarely practiced, a traditional ghost marriage is used to placate a restless spirit. Such a union would guarantee Li Lan a home for the rest of her days, but at what price? Night after night, Li Lan is drawn into the shadowy parallel world of the Chinese afterlife, where she must uncover the Lim family's darkest secrets—and the truth about her own family.
I started my spooky season reads a little early this year, and 
The Ghost Bride
is one of those I've had on my shelves for a while that I picked out to round out some personal challenges this year.
I chose The Ghost Bride for my challenges because it has been on my shelves for a while, and it got a little bit of buzz when it was released and around the time Choo's second novel was released, and I am sometimes one of those people who like to read books by authors in publication order. On top of that, the concept of Li Lan having to solve a murder in Death highly appealed to me, especially as a first read of 'spooky' season.
What I loved most was the attention to world detail, especially as a non-Chinese reader unfamiliar with some aspects of Chinese/colonial Malaysia culture, and I felt completely engaged with the worlds of the living and the dead. The story itself was straightforward, and this is something that would be a great bridge from readers of YA to readers of adult fiction, as thematically, I see a lot of the same themes and concepts in YA, but in Choo's novel, the storytelling, language, and characters are a bit more elevated and complex. The villains are believable and not fully evil, the main character grows and shifts her perspective on ghost brides, marriage, and her role in her life and in her family's life.
Overall, I enjoyed it! I thought it dragged a bit in the middle with repetitive narrative plots, but the resolution was satisfying and I don't feel like I was missing anything from the story once it had finished. I'll also be checking out the series on Netflix as well! I hadn't realized the series was a thing until I unpacked a book at work with the Netflix sticker on the cover. If you want a bit of non-Western historical fiction with a spooky twist, look into this one!