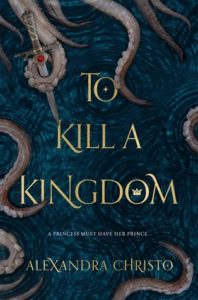 Title: To Kill a Kingdom by Alexandra Christo
Published by Feiwel & Friends
Published: March 6th 2018
Genres: Fantasy, Young Adult
Pages: 344
Format: Hardcover
Source: Purchased
Goodreads


Princess Lira is siren royalty and the most lethal of them all. With the hearts of seventeen princes in her collection, she is revered across the sea. Until a twist of fate forces her to kill one of her own. To punish her daughter, the Sea Queen transforms Lira into the one thing they loathe most—a human. Robbed of her song, Lira has until the winter solstice to deliver Prince Elian's heart to the Sea Queen or remain a human forever.

The ocean is the only place Prince Elian calls home, even though he is heir to the most powerful kingdom in the world. Hunting sirens is more than an unsavory hobby—it's his calling. When he rescues a drowning woman in the ocean, she's more than what she appears. She promises to help him find the key to destroying all of sirenkind for good—But can he trust her? And just how many deals will Elian have to barter to eliminate mankind's greatest enemy?
Alexandra Christo's To Kill a Kingdom scratched the itch I had for sea stories focusing on mermaids and sirens and pirates and ships, and I loved it! Sometimes the banter felt a little cheesy, but in the scope of the novel, the dialogue helped maintain a balance with the murderous aspect of the sirens because without the banter, this would be a pretty gruesome book!

I love mermaid/siren stories, and I especially love when the familiar stories are reinvented and reinvented well. Each of the places explored seemed incredibly real and memorable, and Lira's adjustment from living in the cold sea waters as the Princes' Bane to living above the sea in the care of the prince known to kill sirens was masterfully explored. The worldbuilding felt believable, and I never once felt overwhelmed or underwhelmed by the level of detail. If anything, I found myself wanting to read more of the characters, especially Lila and Elian. They were vicious and violent with soft sides that came out as they got to know each other.

Lila and Elian's rivalry that turns into something more by the end kept me turning pages. The barbs they threw at each other that eventually developed into something deeper is part of the enemies-to-lovers slow burn trope I live for. Sometimes a physical transformation can lead to emotional realizations that you don't consider in your previous form. Especially when it comes to your past life, your past self, and the ideals you held before circumstances showed you a different way of life. And Elian's compass of truth? I want to see more of that.

All in all, this was a fantastic YA fantasy that fulfilled all of my expectations and then some.
---
After a week of spotty internet and moving house with my mom, I'm finally in a place where I can update my blog more regularly! Woohoo! All summer, I've been wanting to focus more on my blog, but between my move and all of the stress and busy-ness associated with it, it's been difficult to find time to sit down and write. Reading is easy when you're in bed at night and in the morning, but for me, writing requires a little more "me" time. Now that everything is out of the old house and into the new, I'm ready to get back on track and work out a posting schedule that works for me! What would you like to see more of?