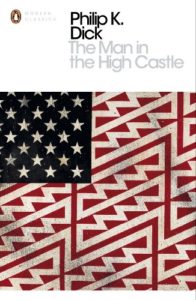 Title:

The Man in the High Castle

by Philip K. Dick
Published by Penguin
Published: September 6th 2001
Genres: Science Fiction
Pages: 249
Format: Trade Paper
Source: Purchased
Buy: Bookshop(afflilate link)
Goodreads


It's interesting to note that history and its aftermath all rest on a series of single actions. If something hadn't gone the way it had, it could have catastrophic influence on everything else (which is why, sadly, time travel cannot really work). What would our lives be like if a certain president weren't elected or if certain events hadn't happened? How much different would our lives really be? Philip K. Dick's take on what could have happened had the United States lost WWII is eerie and true enough to life that it's like looking into another dimension (and at some point in the novel, one of the characters does cross between that world and "our" world). I wouldn't necessarily call this "science fiction," as the most science-y fiction-y aspect of it is that the Germans are going to the moon and there's that slight shift between universes, but I find this sits more under the sub-genre of speculative fiction. Science fiction focuses heavily on the "what if," and this book certainly asks that question. What if the Germans and the Japanese took over the United States? I found it engaging, nuanced, and surprisingly modern.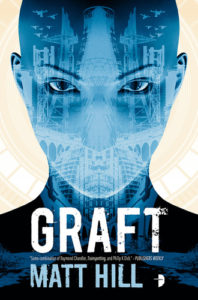 Title:

Graft

by Matt Hill
Published: February 2nd 2016
Pages: 448
Format: Mass Market
Source: Purchased
Buy: Bookshop(afflilate link)
Goodreads


Matt Hill's 
Graft 
is certainly interesting. It's set in a futuristic, dystopian Manchester, England, in which a car thief gets mixed up with a cyborg woman who's had an extra arm and various other enhancements grafted onto her body. It's touted as something that draws influence from 
The Fifth Element
and
The Handmaid's Tale
, and I think that sort of fits. It certainly would appeal to fans of either or both. It's visceral, it's dirty, it's dark both in content and in atmosphere. Having lived sort of near Manchester for a bit while doing my master's degree, I can vouch for it being cloudy, a bit dingy in places, and certainly edgier than the pristine countrysides of England we're used to seeing in various books and films. I enjoyed it, although I wish there was more development both in character and in setting. Compared to Atwood's writing, this just seemed like a three-fourths formed thing. Still enjoyable, and it definitely comes recommended to those who like the darker, grittier side of science fiction!