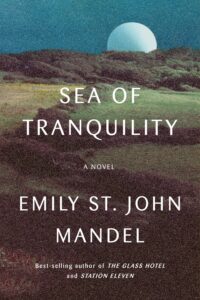 Title:

Sea of Tranquility

by Emily St. John Mandel
Published by Knopf Publishing Group
Published: April 5th 2022
Genres: Fiction, Science Fiction
Pages: 272
Format: ARC
Source: Publisher, Edelweiss
Goodreads


The award-winning, best-selling author of Station Eleven and The Glass Hotel returns with a novel of art, time, love, and plague that takes the reader from Vancouver Island in 1912 to a dark colony on the moon three hundred years later, unfurling a story of humanity across centuries and space.

Edwin St. Andrew is eighteen years old when he crosses the Atlantic by steamship, exiled from polite society following an ill-conceived diatribe at a dinner party. He enters the forest, spellbound by the beauty of the Canadian wilderness, and suddenly hears the notes of a violin echoing in an airship terminal--an experience that shocks him to his core.

Two centuries later a famous writer named Olive Llewellyn is on a book tour. She's traveling all over Earth, but her home is the second moon colony, a place of white stone, spired towers, and artificial beauty. Within the text of Olive's bestselling pandemic novel lies a strange passage: a man plays his violin for change in the echoing corridor of an airship terminal as the trees of a forest rise around him.

When Gaspery-Jacques Roberts, a detective in the Night City, is hired to investigate an anomaly in the North American wilderness, he uncovers a series of lives upended: The exiled son of an earl driven to madness, a writer trapped far from home as a pandemic ravages Earth, and a childhood friend from the Night City who, like Gaspery himself, has glimpsed the chance to do something extraordinary that will disrupt the timeline of the universe.
A virtuoso performance that is as human and tender as it is intellectually playful, Sea of Tranquility is a novel of time travel and metaphysics that precisely captures the reality of our current moment.
Sea of Tranquility continues and adds to the story and world Mandel explores in Station Eleven. While this book can certainly stand on its own, there is a richness added to it if you have already read Station Eleven and The Glass Hotel. Each of the stories are connected, as if Mandel is creating a kind of multiverse, and each of the stories explore characters making the best of things in the worst of times. 
Sea of Tranquility is a matryoshka of interconnected stories, each connected by a singular event occurring at different points in time. The first story takes place in 1912, in which Edwin, the exiled son of an English family, ends up on the Island of Caiette on which he has a strange experience in a forest with visions of a station of some kind and a violin. The second story occurs in 2020, in which Mirelle wants to discover the mystery behind a glitch in a video that is set in a forest and set to violin music. The third story occurs in the future, in which Olive has published a book in which there are scenes echoing the experiences of Edwin and Mirabelle with the forest and the violin. When she meets a man named after the main character in her book, Olive's life is turned upside down, and Gaspery-Jacques Roberts discovers more about his purpose and the nature of reality. 
One thing I have truly enjoyed about Mandel's writing is that it's quiet, it builds up to something more almost without you realizing it's happening, and the end results, to me anyway, are satisfying and emotionally resonant. I reread Station Eleven this year, and it's strange to revisit a pandemic novel during an actual pandemic, but there's a lot of hope in it, hope that there is something greater in humanity to overcome the strangeness of life. Sea of Tranquility is about finding out what it means to belong, how technology affects us throughout the years, and is wistful, wishful, adding onto that hope that even though in the future we'll face pandemics, strife, and fear, it's connected. We're all connected.
Many thanks to Knopf Publishing Group and Edelweiss for the eARC! All opinions are my own.