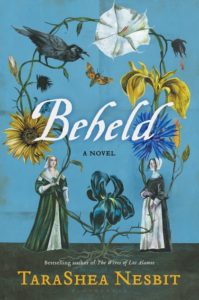 Title:

Beheld

by TaraShea Nesbit
Published by Bloomsbury Publishing
Published: March 17th 2020
Genres: Fiction, Historical
Pages: 288
Format: ARC
Source: Netgalley
Buy: Bookshop(afflilate link)
Goodreads


From the bestselling author of The Wives of Los Alamos comes the riveting story of a stranger's arrival in the fledgling colony of Plymouth, Massachusetts―and a crime that shakes the divided community to its core.
Ten years after the Mayflower pilgrims arrived on rocky, unfamiliar soil, Plymouth is not the land its residents had imagined. Seemingly established on a dream of religious freedom, in reality the town is led by fervent puritans who prohibit the residents from living, trading, and worshipping as they choose. By the time an unfamiliar ship, bearing new colonists, appears on the horizon one summer morning, Anglican outsiders have had enough.

With gripping, immersive details and exquisite prose, TaraShea Nesbit reframes the story of the pilgrims in the previously unheard voices of two women of very different status and means. She evokes a vivid, ominous Plymouth, populated by famous and unknown characters alike, each with conflicting desires and questionable behavior.

Suspenseful and beautifully wrought, Beheld is about a murder and a trial, and the motivations―personal and political―that cause people to act in unsavory ways. It is also an intimate portrait of love, motherhood, and friendship that asks: Whose stories get told over time, who gets believed―and subsequently, who gets punished?
Nesbit's Beheld offers a glimpse into the lives of the Plymouth settlement ten years after their arrival told through the eyes of some of the women who lived there. I don't really recall reading much historical fiction about the early Plymouth settlement, but I loved the imagery and the tension Nesbit explores in this novel. It's a short novel, but it's filled with the right amount of empathy for each of the women's situations. The Plymouth settlement is fraught with disagreements, underlying and unresolved emotions, and flat out hatred that's often glossed over in popular history's retelling of a perfect new world for religious freedoms. At least for me, anyway. It wasn't until I was an adult and in college that I began to really learn about the realities of Plymouth settlement.
Nesbit's strength in this is making you care for and understand each of the women's perspectives, even when they clash with someone else's views. I understand why each of the women made the choices that they did and didn't, and each of the characters felt so real to me. For me, sometimes characters in historical fiction almost feel like standees or caricatures, but characterization and character development is where Nesbit excels.
Beheld is a short historical crime novel that packs a punch and will leave you thinking about it and the early American settlements long after you've finished reading.
Thank you to Bloomsbury and Netgalley for an advance reader copy! All opinions are my own.