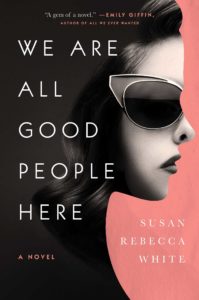 Title:

We Are All Good People Here

by Susan Rebecca White
Published by Atria Books
Published: August 6th 2019
Genres: Fiction, Historical
Pages: 304
Format: ARC
Source: Publisher
Goodreads


From the author of A Place at the Table and A Soft Place to Land, an "intense, complex, and wholly immersive" (Joshilyn Jackson, New York Times bestselling author) multigenerational novel that explores the complex relationship between two very different women and the secrets they bequeath to their daughters.

Eve Whalen, privileged child of an old-money Atlanta family, meets Daniella Gold in the fall of 1962, on their first day at Belmont College. Paired as roommates, the two become fast friends. Daniella, raised in Georgetown by a Jewish father and a Methodist mother, has always felt caught between two worlds. But at Belmont, her bond with Eve allows her to finally experience a sense of belonging. That is, until the girls' expanding awareness of the South's systematic injustice forces them to question everything they thought they knew about the world and their places in it.

Eve veers toward radicalism—a choice pragmatic Daniella cannot fathom. After a tragedy, Eve returns to Daniella for help in beginning anew, hoping to shed her past. But the past isn't so easily buried, as Daniella and Eve discover when their daughters are endangered by secrets meant to stay hidden.

Spanning more than thirty years of American history, from the twilight of Kennedy's Camelot to the beginning of Bill Clinton's presidency, We Are All Good People Here is "a captivating…meaningful, resonant story" (Emily Giffin, author of All We Ever Wanted) about two flawed but well-meaning women clinging to a lifelong friendship that is tested by the rushing waters of history and their own good intentions.
Susan Rebecca White's
We Are All Good People Here
follows the lives of two women – Daniella and Eve – and their daughters, spanning from the 1960s to the late 1980s. Throughout these three decades, Daniella and Eve face changes in their personal lives and in the world around them, and even though they try to be good people, their actions often have consequences for which they weren't prepared. Daniella veers toward social reform and justice while Eve becomes a sometimes-violent radical, and the paths each of them take strain their relationship throughout the rest of their lives culminating in a revelation to each of their daughters that changes how they each view one another.
White's writing in this book is incredible. It starts off rather naive, reflecting the views and experiences of the characters, and eventually morphing into something complex and heady. White doesn't shy away from the difficult aspects of the Civil Rights Movement in the 60s, the Vietnam riots in the 70s, and the racial tensions throughout each of the decades in which these women live. The descriptions of the era are spot on, and I could often vividly imagine the rooms in which these women walked and the clothes they wore to the tensions and struggles of each setting. The character's voices are unique, honest, and at times flawed, and each of the women feel so real and I felt as if I got to know each of them very well.
The novel was a reflection on the past as well as a reflection of our current time of unrest and upheaval. I read it in about two sittings because I absolutely had to know how it ended, and it's a perfect end of summer read. However, if you are affected and prefer not to read about animal violence, there is a violent scene involving a cat that was unsettling.
Thank you to Atria for sending me a complimentary copy to review! All opinions are my own!