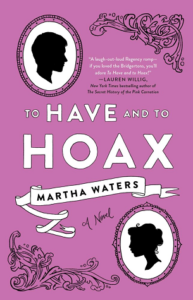 Title:

To Have and to Hoax

by Martha Waters
Published by Atria Books
Published: April 7th 2020
Genres: Romance
Pages: 352
Format: ARC
Source: Publisher
Buy: Bookshop(afflilate link)
Goodreads


In this fresh and hilarious historical rom-com, an estranged husband and wife in Regency England feign accidents and illness in an attempt to gain attention—and maybe just win each other back in the process.

Five years ago, Lady Violet Grey and Lord James Audley met, fell in love, and got married. Four years ago, they had a fight to end all fights, and have barely spoken since.

Their once-passionate love match has been reduced to one of cold, detached politeness. But when Violet receives a letter that James has been thrown from his horse and rendered unconscious at their country estate, she races to be by his side—only to discover him alive and well at a tavern, and completely unaware of her concern. She's outraged. He's confused. And the distance between them has never been more apparent.

Wanting to teach her estranged husband a lesson, Violet decides to feign an illness of her own. James quickly sees through it, but he decides to play along in an ever-escalating game of manipulation, featuring actors masquerading as doctors, threats of Swiss sanitariums, faux mistresses—and a lot of flirtation between a husband and wife who might not hate each other as much as they thought. Will the two be able to overcome four years of hurt or will they continue to deny the spark between them?

With charm, wit, and heart in spades, To Have and To Hoax is a fresh and eminently entertaining romantic comedy—perfect for fans of Jasmine Guillory and Julia Quinn.
I have very much been in the mood for reading romances because they're light and fun and take you away from the world for a bit, and
To Have and To Hoax
is a fun regency romance in which a husband and wife suffer from misaligned communication and miscommunication, and now resort to playing games with each other to try to win each other's attention and affection. And of
course
none of it goes as planned.
The main characters are immature, stubborn, and insufferable, but it is a delight to read because the situations in which they found themselves resulted in witty dialogue and believable chemistry. For me, I thought that the games they played went on a little too long which made the middle of the book drag a bit, and I thought the chapters could be too long and possibly better broken into shorter ones, especially when the point of view changed. The core of the argument that drove Audley and Violet apart was not revealed until well into the book, leaving you guessing as to what could possibly drive two people apart for four years other than sheer stubbornness and an inability to talk about it. Otherwise the pacing was good and kept me interested to find out what shenanigans the characters got up to next.
Ultimately, I think my favorite parts of the entire book involved Violet's friends and how each of them were involved in Violet's schemes, and I hope Waters writes more about them, because I think their stories would be just as entertaining to read!
If you are in the mood for a more modern twist on regency romance, definitely check this one out.
Thank you to Atria for sending me an advance reader's copy; all opinions are my own.