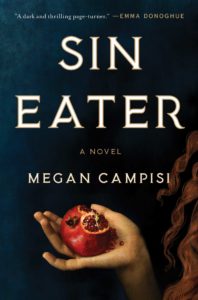 Title:

Sin Eater

by Megan Campisi
Published by Atria Books
Published: April 7th 2020
Genres: Fiction, Historical
Pages: 304
Format: ARC
Source: Publisher
Goodreads


The Handmaid's Tale meets Alice in Wonderland in this gripping and imaginative historical novel about a shunned orphan girl in 16th century England who is ensnared in a deadly royal plot and must turn her subjugation into her power.

The Sin Eater walks among us, unseen, unheard Sins of our flesh become sins of Hers Following Her to the grave, unseen, unheard The Sin Eater Walks Among Us.

For the crime of stealing bread, fourteen-year-old May receives a life sentence: she must become a Sin Eater—a shunned woman, brutally marked, whose fate is to hear the final confessions of the dying, eat ritual foods symbolizing their sins as a funeral rite, and thereby shoulder their transgressions to grant their souls access to heaven.

Orphaned and friendless, apprenticed to an older Sin Eater who cannot speak to her, May must make her way in a dangerous and cruel world she barely understands. When a deer heart appears on the coffin of a royal governess who did not confess to the dreadful sin it represents, the older Sin Eater refuses to eat it. She is taken to prison, tortured, and killed. To avenge her death, May must find out who placed the deer heart on the coffin and why.

"A keenly researched feminist arc of unexpected abundance, reckoning, intellect, and ferocious survival" (Maria Dahvana Headley, author of The Mere Wife) Sin Eater is "a dark, rich story replete with humor, unforgettable characters, and arcane mysteries. It casts a spell on your heart and mind until the final page" (Jennie Melamed, author of Gather the Daughters).
The Unseen is now seen. The Unheard is now heard. The sins of your flesh become the sins of mine to be borne to my grave in silence. Speak.
Megan Campisi's Sin Eater defies genre. It is historical fiction, but not completely; it's fantasy/fabulist¹, but not completely. This indefinite quality adds to its appeal. Sin-eaters did exist, but sin-eaters still remain more in folkloric history in which not much is widely known about them and their practices. Campisi brings an alternate speculative look at Elizabethan England that is rich and detailed, and I wanted more from the world she created. The comp titles listed with this are wide and varied, and for the most part I don't know if they particularly fit, aside from Margaret Atwood's The Handmaid's Tale in the sense that this is a character study of a young woman in a society that prefers she stay in her place and not question anything. If anything, my comp would be The Handmaid's Tale meets Parasite in an alternate Tudor England as this is very much about class, violent deception, and the fear that rules institutionalized religion.
May Owens, the fourteen year old girl sentenced to become a Sin Eater after stealing food, is the perfect set of eyes through which to experience this world, because like her, we are unfamiliar with a lot of the customs outside of our immediate recognition. May's isolation and loneliness are present on the page, along with her discomfort and estrangement at her own acceptance of her life's chosen path. When she delves into the mystery surrounding her mentor's death, May discovers that the court for which she is performing the sin eating is rife with manipulative and deceptive people, and nobody can be trusted but herself, and even then she's not entirely sure she can trust herself.
This is an excellent intrigue of a novel, grim and gruesome with a lot of heart, and it's a contender to be one of my favorite reads of the year.
Thank you to Atria Books for a review copy! All opinions are my own.
¹ I've begun using "fabulist" for something that isn't quite "real" and not quite "fantasy" in terms of genre, as "magical realism" is a style specific to Latin American literature.