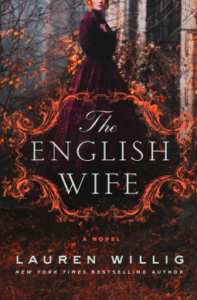 Title:

The English Wife

by Lauren Willig
Published by St. Martin's Press
Published: January 9th 2018
Genres: Fiction, Historical
Pages: 376
Format: Hardcover, ARC
Source: Purchased, Netgalley
Goodreads


From the New York Times bestselling author, Lauren Willig, comes this scandalous New York Gilded Age novel full of family secrets, affairs, and even murder.

Annabelle and Bayard Van Duyvil live a charmed life: he's the scion of an old Knickerbocker family, she grew up in a Tudor manor in England, they had a whirlwind romance in London, they have three year old twins on whom they dote, and he's recreated her family home on the banks of the Hudson and renamed it Illyria. Yes, there are rumors that she's having an affair with the architect, but rumors are rumors and people will gossip. But then Bayard is found dead with a knife in his chest on the night of their Twelfth Night Ball, Annabelle goes missing, presumed drowned, and the papers go mad. Bay's sister, Janie, forms an unlikely alliance with a reporter to uncover the truth, convinced that Bay would never have killed his wife, that it must be a third party, but the more she learns about her brother and his wife, the more everything she thought she knew about them starts to unravel. Who were her brother and his wife, really? And why did her brother die with the name George on his lips?
I was looking through my Netgalley queue deciding on my next read, and Lauren Willig's
The English Wife
caught my eye. It was one of those I started reading a long time ago, set it aside for whatever reason, and ended up purchasing a copy of the book for myself because look at that cover? It's gorgeous. So with it being October and with me being in the mood for some historical fiction, I decided to pick this up again. This took a little bit of time to get into, but by the time I got through the first quarter of the book, I was hooked and I needed to know how the story got to its end. There's nothing entirely new about the plot or the types of characters and once I was clued into a certain character's behaviors, I did begin to put together the pieces of the narrative and very nearly guess
whodunit
, and that's completely
fine
. It felt both familiar and new, I was entertained, and I loved the insights to and development of each of the four main characters.
One of the things I loved the most about The English Wife was the Gilded Age setting. I'm such a sucker for it, especially when it's done well, and this novel felt incredibly atmospheric in just the right ways. I don't think I've ever read anything by Willig before, but this certainly makes me want to go back and see what I've missed! After being in a reading slump for a while, Willig's novel was exactly what I needed. Something a little familiar, something a little new, something that reminded me how fun reading could be. I absolutely devoured this within a twenty-four hour period, and it felt like it had been a while since a book was able to captivate me like that from the get-go.
This was a perfect mid-October read, and I'm glad I finally picked it up. If you like historical fiction with a heavier lean on romance, do look into this!
Thank you to Netgalley and St. Martin's Press for the digital galley! All opinions are my own.