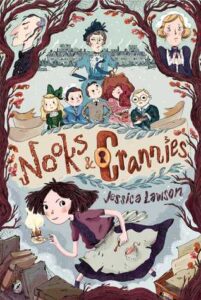 Title:

Nooks & Crannies

by Jessica Lawson
Published: May 10th 2016
Genres: Middle Grade, Mystery
Pages: 352
Format: Trade Paper
Source: Purchased
Goodreads


Charlie and the Chocolate Factory meets Clue when six children navigate a mansion full of secrets—and maybe money—in this "delightful gem" (School Library Journal, starred review) with heart.
Sweet, shy Tabitha Crum, the neglected only child of two parents straight out of a Roald Dahl book, doesn't have a friend in the world—except for her pet mouse, Pemberley, whom she loves dearly. But on the day she receives one of six invitations to the country estate of wealthy Countess Camilla DeMoss, her life changes forever.

Upon the children's arrival at the sprawling, possibly haunted mansion, it turns out the countess has a very big secret—one that will change their lives forever.

Then the children beginning disappearing, one by one. So Tabitha takes a cue from her favorite detective novels and, with Pemberley by her side, attempts to solve the case and rescue the other children…who just might be her first real friends.
This was purely a cover buy, because every time I'd walk by it, I'd tell myself I needed it. But then it sat on my shelf for years until this year when I added it to my 20 books in 2020 list (that I'm not going to finish, but that's okay!!). I'm glad I read it when I did because it's the perfect mystery escape, and I think it will appeal to a lot of different readers of all ages. Within the first few chapters, I found myself thinking
This is a little dark for a kids' book
but then seeing the comparisons to Roald Dahl and Lemony Snicket made perfect sense. This is something that would appeal to those readers and definitely belongs on the shelf next to Robin Stevens' Wells and Wong mystery series!
Tabitha is such a wonderful character, sure of herself while also searching for her place in the world, smart without being too smart, and very funny on top of it all. After being told by her parents they're dumping her off at an orphanage because they can't keep her any longer (!!!) but days before she's set to be dropped off, Tabitha receives a mysterious invitation to the Countess of Windermere's mansion. She along with five other children are chosen to help get to the bottom of a lineage mystery as well as an inheritance mystery.
Mysteries can be easily spoiled, so I won't write much about the details, but I will say that I was delighted by all of the twists and turns and red herrings. This is such a well-crafted traditional mystery story, and it made me want to dive back into reading some Agatha Christie again because the pacing of the story and the characters and reveals within reminded me so much of what I've read of Christie.
I just really loved this one for all sorts of reasons. If you enjoy well-paced adventure stories, well-plotted mysteries, and great multifaceted characters (no matter your age), this one should be on your list to read next. Nooks & Crannies was the sort of book that reminded me of how much I loved reading when I was younger, and I feel like there are so few middle grade books I've read in the past few years that make me feel that way. I also loved that it's a standalone title! In this current pandemic with all of the stress of it on top of regular life stress, it's so nice to be able to read a story from beginning to end in one book!! (But this is also a post for another time, because while I love series, my brain is definitely leaning toward standalones.)