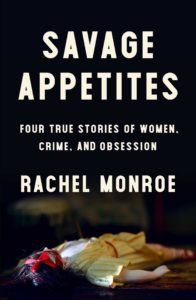 Title:

Savage Appetites: Four True Stories of Women, Crime, and Obsession

by Rachel Monroe
Published by Scribner
Published: August 20th 2019
Genres: Cultural Studies
Pages: 272
Format: ARC
Source: Publisher
Goodreads


A provocative and original investigation of our cultural fascination with crime, linking four archetypes—Detective, Victim, Attorney, Killer—to four true stories about women driven by obsession.

In this illuminating exploration of women, violence, and obsession, Rachel Monroe interrogates the appeal of true crime through four narratives of fixation. In the 1940s, a bored heiress began creating dollhouse crime scenes depicting murders, suicides, and accidental deaths. Known as the "Mother of Forensic Science," she revolutionized the field of what was then called legal medicine. In the aftermath of the Manson Family murders, a young woman moved into Sharon Tate's guesthouse and, over the next two decades, entwined herself with the Tate family. In the mid-nineties, a landscape architect in Brooklyn fell in love with a convicted murderer, the supposed ringleader of the West Memphis Three, through an intense series of letters. After they married, she devoted her life to getting him freed from death row. And in 2015, a teenager deeply involved in the online fandom for the Columbine killers planned a mass shooting of her own.

Each woman, Monroe argues, represents and identifies with a particular archetype that provides an entryway into true crime. Through these four cases, she traces the history of American crime through the growth of forensic science, the evolving role of victims, the Satanic Panic, the rise of online detectives, and the long shadow of the Columbine shooting. In a combination of personal narrative, reportage, and a sociological examination of violence and media in the twentieth and twenty-first century, Savage Appetites scrupulously explores empathy, justice, and the persistent appeal of violence.
Rachel Monroe's
Savage Appetites
explores the cultural phenomenon of true crime and how women tend to be drawn to the "genre" even though women are more likely to be victims in true crime "stories." This was an examination of our society's fascination with true crime and how that fascination has grown over the years through four case studies. In
Savage Appetites
, Monroe takes those fascinations of women with true crime and separates them into four general archetypes – detective, victim, attorney, killer.
Through each of these archetypes, Monroe combines thorough research with her own anecdotes to explore what exactly it is that makes true crime so fascinating not only for women but for all of us. While her writing flowed easily and I enjoyed learning what she tied in with her archetypes, I felt that it all fell flat because some of the attitudes were a little negatively skewed toward the women featured in the archetypes. It's uncomfortable to read unnecessary criticism against women in a book about women, but because I'm not well-read in true crime, maybe that's something delved into a little more? I'm not sure. For me, when someone is offering cultural insight and criticism, I do want there to be more about what we as a society could do to be better or how it ultimately affects our society to be so interested in an ultimately violent "genre." What happens when true crime begins being viewed as fiction rather than something that happened to real people? Do we become more desensitized to the violence because we're beginning to assume it's fiction and therefore can't happen to us?
Even though true crime has certainly morphed into a genre, I was hoping for more in Savage Appetites about the implications of calling true crime a genre and ultimately why we're becoming more and more fascinated with true crime. One more chapter tying the four archetypes together and exploring a result or conclusion would have made me like this a little bit more!
Thank you to Scribner for sending me a complimentary copy to review. All opinions are my own.