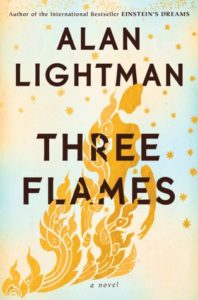 Title:

Three Flames

by Alan Lightman
Published by Counterpoint LLC
Published: September 3rd 2019
Genres: Fiction
Pages: 205
Format: ARC
Source: Publisher
Goodreads


From the international bestselling author of Einstein's Dreams comes a deeply compelling story about the lives of a Cambodian family—set between 1973, just before the Cambodian Genocide by the Khmer Rouge—to 2015.

The stories of one Cambodian family are intricately braided together in Alan Lightman's haunting Three Flames, his first work of fiction in six years.

Three Flames portrays the struggles of a Cambodian farming family against the extreme patriarchal attitudes of their society and the cruel and dictatorial father, set against a rural community that is slowly being exposed to the modern world and its values. A mother must fight against memories of her father's death at the hands of the Khmer Rouge, and her powerful desire for revenge. A daughter is married off at sixteen to a wandering husband and his domineering aunt; another daughter is sent to the city to work in the factories to settle her father's gambling debt. A son dreams of marrying the most beautiful girl of the village and escaping the life of a farmer. And the youngest daughter bravely challenges her father so she can stay in school and strive for a better future.

A vivid story of revenge and forgiveness, of a culture smothering the dreams of freedom, and of tradition against courage, Three Flames grows directly from Lightman's work as the founder of the Harpswell Foundation, a nonprofit organization whose mission is to advance a new generation of female leaders in Cambodia and all of Southeast Asia.
Alan Lightman's
Three Flames
follows the story of a Cambodian family throughout the years told through interwoven chapters from each family member's point of view. I love family stories that are told throughout the decades, illuminating the secret pains and joys each member of the family harbors. Even though it's a short book, I found myself thoroughly engaged and involved with the story, and I couldn't put it down. It's easy to read in a single sitting or two, and the lives of the characters and the struggles they faced will stick with you and make you think as they did for me.
Three Flames explores the costs and consequences of living in a deeply patriarchal society and the affects that has on both men and women and the roles each are expected to perform. It's difficult sometimes to reconcile that some of this story is set in the last decade because I, as a white woman living in America, am incredibly privileged and have many more freedoms than the women have in Cambodia today. Lightman's work and passion with his foundation to assist women in Cambodia shines in this novel, giving a voice to people that many may not have heard about or thought of without having read this. It's a reminder to us all that oppression against women and others thought of as "lesser" still exists to such extremes (and what we might call outdated ways) today.
Lightman's use of language and theme is precise, rich, compassionate, and fitting for a novel that delves into difficult realities. It's well worth looking into, and I haven't stopped thinking about it since I finished it.
Many thanks to Counterpoint LLC for sending me a complimentary copy to review! All opinions are my own.