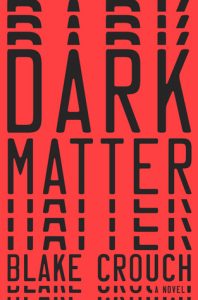 Title:

Dark Matter

by Blake Crouch
Published by Crown Publishing
Published: July 26th 2016
Genres: Science Fiction
Pages: 342
Format: Hardcover
Source: Blogging for Books
Goodreads

"Are you happy with your life?" Those are the last words Jason Dessen hears before the masked abductor knocks him unconscious. Before he awakens to find himself strapped to a gurney, surrounded by strangers in hazmat suits. Before a man Jason's never met smiles down at him and says, "Welcome back, my friend."
In this world he's woken up to, Jason's life is not the one he knows. His wife is not his wife. His son was never born. And Jason is not an ordinary college physics professor but a celebrated genius who has achieved something remarkable--something impossible.
Is it this world or the other that's the dream? And even if the home he remembers is real, how can Jason possibly make it back to the family he loves? The answers lie in a journey more wondrous and horrifying than anything he could've imagined—one that will force him to confront the darkest parts of himself even as he battles a terrifying, seemingly unbeatable foe.
I suppose we're both just trying to come to terms with how horrifying infinity really is.
Dark Matter is a wild ride through alternate realities and the realities we create for ourselves. It's a fast-paced thriller that will keep you guessing about the twists and turns until the very end.
Jason lives a comfortable, happy life, but from the beginning we see that he's consistently plagued with the question what if. What if he didn't marry his wife and settle down with a kid? What if he won a prestigious prize instead of his friend? What if he continued on his research instead of losing funding because he decided to focus on his family? Jason confronts those what-ifs when he's abducted and pushed into a different reality. In the first reality that is different from his own, he sees what his world could have been if he decided to focus on his work rather than focus on his family, and in the midst of trying to get back to his "home" reality, Jason realizes that his other self has stepped into his role and taken over his alternate self's what-ifs.
It's bendy, it will probably make you think what just happened many times until everything comes to a head and you have to read to the very end. It raises the questions of reality, that realities can be created together and shared together, and that our futures are created every nanosecond along the way. If you aren't careful, your split selves may come back for you. And ultimately it's a romance in the sense that Jason realizes that life isn't worth truly living unless he's with his Daniela, no matter how many versions of her he meets along the way back home.
I really enjoyed this. It's an exciting, breezy read that makes me hope that there will be a mini-series or a movie of this, because it would be so cool to see some of the scenes played out on screen.
Thank you to Crown Publishing and Blogging for Books for a review copy!