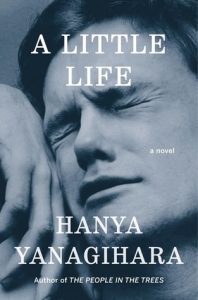 Title:

A Little Life

by Hanya Yanagihara
Published by Doubleday
Published: March 10th 2015
Genres: Fiction
Pages: 720
Format: Trade Paper
Source: Purchased
Goodreads


When four classmates from a small Massachusetts college move to New York to make their way, they're broke, adrift, and buoyed only by their friendship and ambition. There is kind, handsome Willem, an aspiring actor; JB, a quick-witted, sometimes cruel Brooklyn-born painter seeking entry to the art world; Malcolm, a frustrated architect at a prominent firm; and withdrawn, brilliant, enigmatic Jude, who serves as their center of gravity. Over the decades, their relationships deepen and darken, tinged by addiction, success, and pride. Yet their greatest challenge, each comes to realize, is Jude himself, by midlife a terrifyingly talented litigator yet an increasingly broken man, his mind and body scarred by an unspeakable childhood, and haunted by what he fears is a degree of trauma that he'll not only be unable to overcome—but that will define his life forever.
Life is so sad, he would think in those moments. It's so sad, and yet we all do it. We all cling to it; we all search for something to give us solace.
This is one of those books that everyone's been talking about forever, and I finally decided to get it and read it, and oh my god, I cried a lot. It's a difficult, graphic, and upsetting novel, and it's one that requires a dedication to read it, because once I reached the halfway point, I made the decision to finish it that night.
This novel follows the lives of four friends who graduate from college and live in New York City. Most of the novel revolves around one character, Jude St. Francis, and the narration switches between past and present, first and third person. It is very much a character novel, and it explores the relationships of these four friends with each other and others throughout Jude's life.
I initially had a few issues with it. This novel is timeless. The events in the novel take place in a New York that is not cemented in any specific time. There are no references to 9/11, no references to election years, no reference to politics or major news. I also felt that this was a little too long. Don't get me wrong, I could read endlessly about any and all of these characters and would love to, and I got the impression that we as readers want to feel as if these four specific friends are our four specific friends. But. I felt that with some removal of some scenes, the novel could have been more solidly focused around Jude because, in essence, this is a novel about Jude. And finally, sometimes I couldn't tell whether or not I was reading about a Jude (or a Willem, or a JB, or a Malcolm) who was twenty-five or a Jude (or a Willem, or a JB, or a Malcolm) who was forty-five. Some people don't change, sometimes our inner voice stays and sounds the same throughout our entire lives, but I really wanted to hear that growth sometimes. Again, it adds to the timelessness of the novel, that we're who we are no matter who or what anyone else says or does, so I understand.
Finally, is anyone's life that consistently miserable? I read a handful of reviews after finishing it that called it "grief porn" or something to that effect, and in some ways I agree, because I can't see how anyone who considers Jude that much of a friend would let so much of his later-life violence happen to him. All of Jude's close friends at some point or another seemed to enable Jude's behavior. How, after such atrocities have been committed against a person, does anyone, including the victim, allow it to continue happening to such a violent degree? Yes, I know, at some point we've got to let the person live his life, that he's allowed to have his own say in what happens. I know there are legalities regarding committing people, to help them. It just seemed so implausible that there was no hope for Jude.  Half the novel was implausible, but the fact that there's a prevalent trope of gay men always having unhappy endings is disheartening?? There's a sense of dread surrounding Jude, a sense of wondering when that suffering is going to end and who's going to end it and when, because there's no hope for happiness for him and that's probably the most upsetting part about the entire thing.
The more I thought about the problems I had with the novel, the more I thought about the history and construction of various genres of the novel. And it hit me. There's a reason for all of this.
It's so Gothic it hurts.
A Little Life is a modern Gothic novel, with its secrets,  its big empty living spaces, and its explorations of love and death. Jude is our virginal maiden, Brother Luke and Caleb are our villainous tyrants (members the clergy in Gothic literature are often evil, and god is Brother Luke and everyone in that monastery evil), Willem and Andy are our heroes, the spaces in which Jude lives are often characters in themselves, and so much of the violence occurs at night, that psychological overlay of darkness. The Gothic novel is wildly implausible, preys on our emotions, is utterly sensational, and pleases us with its terror.
This is one of the best, most engaging novels I've read in a long time. There were times when I didn't even realize I was turning pages. I'd look at a page number, and some time later, a hundred or more pages had been turned. It's visceral, it's violent, it's emotional, and it's powerful. Yanagihara has a way with words and development that kept me reading long after I should have been in bed. She makes us care immensely for Jude and his friends before she delivers the hefty, difficult stuff, so that makes us ache and cry even more. She is unflinching in her descriptions of abuse, of love, of friendship, of the ache of life, and I couldn't put it down.
Read it, laugh and cry a little, and live that little life.