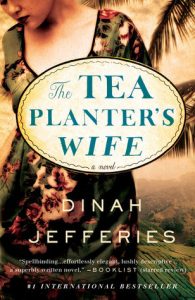 Title:

The Tea Planter's Wife

by Dinah Jefferies
Published by Broadway Books
Published: June 20th 2017
Genres: Fiction, Historical
Pages: 448
Format: Trade Paper
Source: Blogging for Books
Goodreads


#1 International bestselling novel set in 1920s Ceylon, about a young Englishwoman who marries a charming tea plantation owner and widower, only to discover he's keeping terrible secrets about his past, including what happened to his first wife, that lead to devastating consequences
Dinah Jefferies's 
The Tea Planter's Wife
begins with nineteen-year old Gwen arriving from London to join her new husband Laurence at his tea plantations in Ceylon. In her struggles to adjust to being a wife and to her new surroundings, Laurence begins behaving oddly toward Gwen and the two have a strained relationship throughout the book, both typical of the time period and for other reasons that I won't spoil. After she becomes pregnant with twins and gives birth, Gwen harbors a weighty secret for years until she no longer can hide the truth.
Jefferies's prose is vivid and descriptive, and she crafts an engaging cast of characters. We feel for Gwen's struggle to adjust to her new life and role as mother and wife, we are charmed by Mr. Ravasinghe, and we are irritated by Laurence and his sister Verity, especially their attitudes and behavior toward Gwen throughout the novel. Each character seems well-developed and suited for the narrative, and I wanted to know more about Mr. Ravasinghe and Gwen's friend, Fran, and their relationship, but alas. Perhaps in a future/companion novel?
The Tea Planter's Wife highlights the racial divide, and the subject of race threads through each character's story. It makes the reader consider the effects of prejudice and how often day-to-day struggles could be lessened if one let go of that prejudice. The book itself has those Gothic undertones that I enjoy, and while some of the events are predictable, I enjoyed the book from beginning to end. It's the perfect book for those late summer rainy days when you can almost imagine being in one of those plantation houses in Ceylon listening to the rain.
A copy of this book was provided to me for review by Blogging for Books! All opinions are my own.