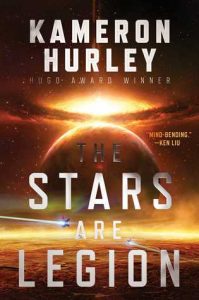 Title:

The Stars Are Legion

by Kameron Hurley
Published by Saga Press
Published: February 7th 2017
Genres: Science Fiction
Pages: 380
Format: Hardcover
Source: Purchased
Goodreads


When you understand what the world is, you have two choices: Become a part of that world and perpetuate that system forever and ever, unto the next generation. Or fight it, and break it, and build something new. The former is safer, and easier. The latter is scarier, because who is to say what you build will be any better?
I read this book in March, and I haven't been able to stop thinking about it or recommending it since. Kameron Hurley's The Stars are Legion is on its way to becoming (if it's not already there) one of those must-read science fiction books if you're into even the barest sliver of science fiction. Science fiction often explores that question of "what if" and reflects on current aspects of life that are problematic in some way. Today, women's bodies are policed. They are often told they cannot choose for themselves when and how to reproduce, and if a woman is control of her sexuality, she is seen as a threat. I sell this as a "politically charged womb-punk space opera that will thrill you and make you rage, oh, and there are no male characters in this at all." Most of the time, I get a look like "… what?" My roommate even thinks that me liking this book so much is weird, but this book, at least for me, speaks of certain aspects of an experience that is difficult to convey to someone who doesn't have a body part that has been consistently policed by men in positions of power.
Aside from this being an amazing space opera, The Stars are Legion has a cast of brutally unlikable characters, blood and gore up the wazoo, and feels like it could have come right out of that wave of sff that was written in the late 1960s and early 1970s. The characters are unlikable and cruel and you can't trust anyone, but you'll be rooting for them in the end. The Stars are Legion is a an angry, visceral yell into the void of space, and the world within the covers is just an expanse waiting for you to live in it for a while, get pumped up, and want to go kick some ass in the real world.
I mean, don't you want to read about asexual ships that give birth to whatever the ship needs, cannibalistic women who eat their deformed young, and womb/uterus/placenta references (with all of the associated fluids) all over the place? Yes, you do. I don't want to reveal too much about the plot or the characters because half of the enjoyment of this is getting to discover that for yourself. Just read it. ASAP. The hardcover is out now, the ebook is h*ckin cheap, and the paperback is out in November.