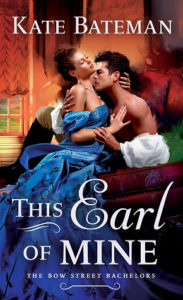 Title:

This Earl of Mine

by Kate Bateman
Series: Bow Street Bachelors #1
Published by St. Martin's Press
Published: October 29th 2019
Genres: Romance
Pages: 325
Format: eBook
Source: Library
Buy: Bookshop(afflilate link)
Goodreads


Introducing the Bow Street Bachelors―men who work undercover for London's first official police force―and the women they serve to protect. . .and wed?

WILL A FALSE MARRIAGE
Shipping heiress Georgiana Caversteed is done with men who covet her purse more than her person. Even worse than the ton's lecherous fortune hunters, however, is the cruel cousin determined to force Georgie into marriage. If only she could find a way to be . . . widowed? Georgie hatches a madcap scheme to wed a condemned criminal before he's set to be executed. All she has to do is find an eligible bachelor in prison to marry her, and she'll be free. What could possibly go wrong?

LEAD TO TRUE AND LASTING LOVE?
Benedict William Henry Wylde, scapegrace second son of the late Earl of Morcott and well-known rake, is in Newgate prison undercover, working for Bow Street. Georgie doesn't realize who he is when she marries him―and she most certainly never expects to bump into her very-much-alive, and very handsome, husband of convenience at a society gathering weeks later. Soon Wylde finds himself courting his own wife, hoping to win her heart since he already has her hand. But how can this seductive rogue convince brazen, beautiful Georgie that he wants to be together…until actual death do they part?
A wealthy heiress who needs to marry and become a widow to run her business in peace? YES. Georgiana chooses a prisoner on death row to marry, though little does she know she's chosen an earl. I'm not entirely up to par on writing about romance since I had avoided the genre for too long, but I really enjoyed the chemistry between Georgiana and Benedict. The dance they do after Georgiana figures out he's not only a prisoner, but an earl working as a Bow Street runner, feels realistic and drew me in immediately.
When I had requested and been approved for To Catch an Earl, I hadn't realized it was the second in the series, so I borrowed this from the library as soon as I could! I read it in like two sittings because I wanted to know how everything developed and resolved, and I was left completely satisfied.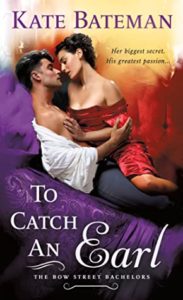 Title:

To Catch an Earl

by Kate Bateman
Series: Bow Street Bachelors #2
Published by St. Martin's Press
Published: June 30 2020
Genres: Romance
Pages: 336
Format: ARC
Source: Netgalley
Buy: Bookshop(afflilate link)
Goodreads


A case of secret identities finds reunited lovers on opposite sides of the law in this fun, flirty Regency romance.

There's only one case Bow Street agent Alex Harland, Earl of Melton, hasn't cracked: the identity of the mysterious woman who stole a kiss from him before he left for war. He's neither forgotten—nor forgiven—her for leaving him wanting. When he starts investigating the Nightjar, an elusive London jewel thief, he keeps running into the alluring Emmy Danvers, who stirs feelings he hasn't felt in years.

Even though Emmy's loved Alex for years, she can't risk revealing her heart, or her identity as the Nightjar. With Alex on her case, Emmy knows that her secrets are in danger of being discovered. Their cat and mouse game heats up with every interaction, but when Emmy's reputation—and life—is at risk, will Alex realize that some rules are made to be broken for love?
The second of the Bow Street Bachelors was not as strong of a connection between the main characters as I felt there was with the first. Emmy, for a jewel thief, wears a personalized signature scent even when she's thieving, and it seems a little obvious that if, narratively speaking, she excels at this work she wouldn't wear such an obvious tell? Alex, having inhaled that scent four years previously, is driven to distraction by that scent in his memories until he meets Emmy again.
The tension and connection didn't seem as polished or as well developed as I felt it was in the first in the series, but the twists and the plot otherwise kept me engaged! The enemies to lovers trope didn't play out as promised on the cover copy, and I felt Alex had it figured out too soon (with little reaction between both of them about it until much later), so I felt like it dragged in some places as well because of that. It's an enjoyable read nonetheless and sets up for the third in the series.
An advance reader copy was provided by the publisher and Netgalley; all opinions are my own.