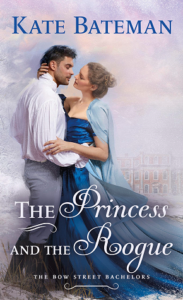 Title:

The Princess and the Rogue (Bow Street Bachelors, #3)

by Kate Bateman
Series: Bow Street Bachelors #3
Published by St. Martin's Paperbacks
Published: December 29th 2020
Genres: Romance
Pages: 328
Format: ARC
Source: Netgalley, Publisher
Buy: Bookshop(afflilate link)
Goodreads


A princess in disguise is forced to live with a rogue in order to protect her from danger in this fun, sexy regency romance.
Bow Street agent Sebastien Wolff, Earl of Mowbray, doesn't believe in love―until a passionate kiss with a beautiful stranger in a brothel forces him to reconsider. When the mysterious woman is linked to an intrigue involving a missing Russian princess, however, Seb realizes her air of innocence was too good to be true.
Princess Anastasia Denisova has been hiding in London as plain 'Anna Brown'. With a dangerous traitor hot on her trail, her best option is to accept Wolff's offer of protection―and accommodation―at his gambling hell. But living in such close quarters, and aiding Wolff in his Bow Street cases, fans the flames of their mutual attraction. If Anya's true identity is revealed, does their romance stand a chance? Could a princess ever marry a rogue?
Any book having to do with princesses is likely to be one I'll enjoy reading a lot, and this one was no exception. In
The Princess and the Rogue
, Anastasia Denisova is a Russian princess on the run from a man who thinks she has information on him being a traitor, so she settles in as a paid lady's companionship role in London after running from this man and selling off nearly all of her prized possessions. It is through being this lady's companion that she meets Sebastian, with whom there's an immediate connection. In her disguise as "Anna Brown," she's able to maneuver through society as a lady's companion, but the traitor is still hot on her feet, so Sebastian offers her protection. Through all of this and through shared close quarters during her protection, they end up falling for each other.
This is the third and probably final in the Bow Street Bachelors series, and it's my second favorite! I loved the portrayal of a princess on the run who has to adjust to a different kind of life, and I loved that Anya chose to do it with as much hope and acceptance as possible. I also loved that she had friends who worked in a brothel, and that the inclusion and exploration of these women weren't demonized or belittled. Anya knew just as well as the women working in the brothel that sometimes life didn't turn out the way one expects it to turn out.
Overall, this is a fun and fresh historical romance series, and I am very excited to read more of Bateman's upcoming work! Many thanks to St. Martin's for a complimentary review copy! All opinions are my own.