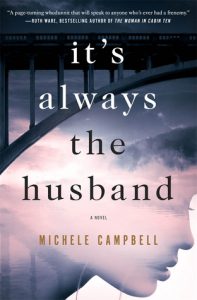 Title:

It's Always the Husband

by Michele Campbell
Published by St. Martin's Press
Published: May 16th 2017
Genres: Fiction
Pages: 320
Format: Hardcover
Source: Book Sparks
Goodreads


Kate, Aubrey, and Jenny. They first met as college roommates and soon became inseparable, even though they are as different as three women can be. Twenty years later, one of them is standing at the edge of a bridge . . and someone else is urging her to jump.

How did things come to this?

As the novel cuts back and forth between their college years and their adult years, you see the exact reasons why these women love and hate each other—but can feelings that strong lead to murder? Or will everyone assume, as is often the case, that it's always the husband?
Michele Campbell's 
It's Always the Husband
has a blurb on the cover that compares it to one of my favorite books of all time, Donna Tartt's 
The Secret History
, so that was one of the big excitement draws from me toward the book. I like campus stories, especially involving societies on campus and the terrible things that end up happening as a result of their collective behaviors because let's face it, going to college and living on campus is one of the first times a lot of us experience living on our own without our parents to help guide the way. And a lot of the time, that innocence and lack of experience translates into some pretty catastrophic stuff.
This is a hard one to review, because I think I expected too much by having that comparison given to me from the get-go, and usually I'm pretty good about being wary of such comparisons because very few things do actually compare. Anyway, it's very obvious from the beginning that Campbell knows her stuff. She's very familiar with the ins and outs of prestigious schools and established, wealthy families. She's done her research on twisted murder cases and the lengths people go for self-preservation. Campbell's history as a federal prosecutor gives her that knowledge and makes this story seem entirely plausible.
But. I didn't really connect with any of the characters or feel sympathy for them. I thought the title was a bit of a misnomer, because it's not always the husband (and if that's the joke, I feel like it's a little off the mark). It seems like this could have been two separate stories, or even a fully-developed college story, and then a sequel of what comes after. It's odd because it felt both drawn out and really rushed, depending on what was going on. I either would have liked everything to have taken place on campus or have had a shorter flashback sequence with more focused on who the women became in the present.The writing is taut and sharp and kept me reading even though the plot was a little heavy-handed at times; but based on the advertising and blurbs and comparisons to Tartt, Flynn, and Ware, I was expecting a thriller, and instead I got a thrilling character-driven novel. Not a bad thing, but not what I was ultimately expecting or hoping for.
A copy of this book was provided to me for review by Book Sparks and the publisher. All opinions are my own.