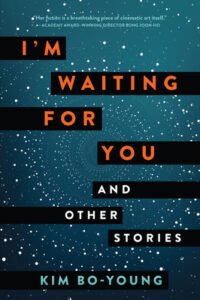 Title:

I'm Waiting for You and Other Stories

by Kim Bo-young, Sophie Bowman, Sung Ryu
Published by Harper Voyager
Published: April 6th 2021
Genres: Science Fiction
Pages: 336
Format: ARC
Source: Publisher, Work
Buy: Bookshop(afflilate link)
Goodreads


"Her fiction is a breath-taking piece of a cinematic art itself. Reminiscent of the world we experienced in Matrix, Inception, and Dark City, still it leads us to this entirely original structure, which is a ground-breaking, mystic literary and cinematic experience. Indeed, powerful and graceful."—Bong Joon-ho, Oscar-winning director of Parasite

Two worlds, four stories, infinite possibilities
In this mind-expanding work of speculative fiction, available in English for the first time, one of South Korea's most treasured writers explores the driving forces of humanity—love, hope, creation, destruction, and the very meaning of existence—in two pairs of thematically interconnected stories.
In "I'm Waiting for You" and "On My Way," an engaged couple coordinate their separate missions to distant corners of the galaxy to ensure—through relativity—they can arrive back on Earth simultaneously to make it down the aisle. But small incidents wreak havoc on space and time, driving their wedding date further away. As centuries on Earth pass and the land and climate change, one thing is constant: the desire of the lovers to be together. In two separate yet linked stories, Kim Bo-Young cleverly demonstrate the idea love that is timeless and hope springs eternal, despite seemingly insurmountable challenges and the deepest despair.

In "The Prophet of Corruption" and "That One Life," humanity is viewed through the eyes of its creators: godlike beings for which everything on Earth—from the richest woman to a speck of dirt—is an extension of their will. When one of the creations questions the righteousness of this arrangement, it is deemed a perversion—a disease—that must be excised and cured. Yet the Prophet Naban, whose "child" is rebelling, isn't sure the rebellion is bad. What if that which is considered criminal is instead the natural order—and those who condemn it corrupt? Exploring the dichotomy between the philosophical and the corporeal, Kim ponders the fate of free-will, as she considers the most basic of questions: who am I?
This collection of intertwined short stories is so meticulously well done that I need to read everything else by Bo-Young. It's not apparent from the get-go that these stories are connected because it starts out small, goes to the outer limits of the universe, and comes back around, but the way in which these are connected are so human at times in a way that only science fiction seems to be able to do.
Kim Bo-Young's collection is something I'd recommend to you if you read and enjoyed Ted Chiang's or Ken Liu's writing as it has the very human, philosophical quality found in their works because no matter how far we as humans remove ourselves from the planet Earth – physically, emotionally, or spatially – there is always something calling us back.
From the letters and communication between two lovers trying to coordinate their paths through space and time to the overwatch of celestial beings on humanity, each of these stories makes you believe in something considered both small and big in the grand scheme of the universe – love, life, and hope. And those three things are often what truly matter in the grand scheme of things. The day-to-day choices that bring us closer together, no matter what the universe has in store for us all.
This comes highly recommended from me, and it's definitely one of my favorite reads of the year.
Many thanks to Harper Voyager for a review copy! All opinions are my own.