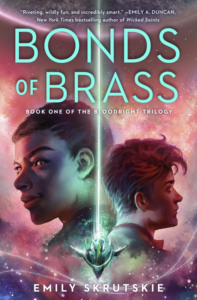 Title:

Bonds of Brass

by Emily Skrutskie
Series: The Bloodright Trilogy #1
Published by Del Rey Books
Published: April 7th 2020
Genres: Science Fiction
Pages: 304
Format: ARC
Source: Netgalley, Publisher
Buy: Bookshop(afflilate link)
Goodreads


A young pilot risks everything to save his best friend--the man he trusts most and might even love--only to learn that he's secretly the heir to a brutal galactic empire.

Ettian Nassun's life was shattered when the merciless Umber Empire invaded. He's spent seven years putting himself back together under its rule, joining an Umber military academy and becoming the best pilot in his class. Even better, he's met Gal Veres--his exasperating and infuriatingly enticing roommate who's made the Academy feel like a new home.

But when dozens of classmates spring an assassination plot on Gal, a devastating secret comes to light: Gal is the heir to the Umber Empire. Ettian barely manages to save his best friend and flee the compromised Academy unscathed, rattled both that Gal stands to inherit the empire that broke him and that there are still people willing to fight back against Umber rule. As they piece together a way to deliver Gal safely to his throne, Ettian finds himself torn in half by an impossible choice. Does he save the man who's won his heart and trust that Gal's goodness could transform the empire? Or does he throw his lot in with the brewing rebellion and fight to take back what's rightfully theirs?
One of the things I love about Emily Skrutskie's work (and I have only read two of hers, and now obviously need to fix this) is that she makes you immediately care about the characters and throws you right into the action without feeling as if you're missing any information. 
Bonds of Brass
plays with familiar sci-fi and romance tropes (big galactic empire heirs, omg they were roommates) while breathing new life into them all while taking you on a wild space chase through the galaxy. It also throws a handful of references to those of us who like a particular
Star Wars
ship, and it felt like Skrutskie said, if
Star
Wars
won't do it, I will. And she did.
The book opens with Ettian defending Gal, his roommate, from an attack from schoolmates; and after this, Ettian begins to struggle reconciling the truth about Gal's identity, his feelings for his roommate, and the status of the galaxy at large. Gal's the heir to the Umber Empire, the very same empire that shattered Ettian's home, the capital city of the former Archon Empire. During their escape, Ettian and Gal meet Wen, a scrappy scavenger, who reveals that an Archon resistance exists, and she might be the only way for either of them to get home, wherever that home might be.
Without revealing any spoilers, the last third of this book is incredibly action-packed and a complete free fall of revelations that shift everything you as the reader knew about Ettian and Gal and the empires to which they belonged, and the final reveal occurs at the end of the book that will leave you desperate for the sequel. I can't wait to see how each character continues to come to terms with the annihilation and violence the empires have wrought and to see how the relationships among all of the characters develop. Overall, this is a fun sci-fi title that makes you feel things.
When I first heard about this book, I was certain it was marketed as YA, but it's published by an adult imprint. This first installment does read a little bit like YA, so it's definitely a crossover, but I'm hoping with the rest of the trilogy, Skrutskie takes it as far as she's able to really explore the depths this galaxy has to offer.
Thank you to Del Rey for the giveaway and the advance copy to read!