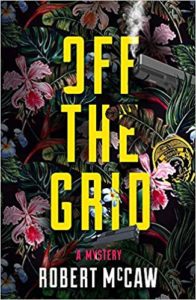 Title:

Off the Grid

by Robert B. McCaw
Published by Oceanview Publishing
Published: July 2nd 2019
Genres: Mystery
Pages: 304
Format: Trade Paper
Source: Publisher
Goodreads

A scrap of cloth fluttering in the wind leads Hilo police Chief Detective Koa Kāne to the tortured remains of an unfortunate soul, left to burn in the path of an advancing lava flow. For Koa, it's the second gruesome homicide of the day, and he soon discovers the murders are linked. These grisly crimes on Hawaiʻi's Big Island could rewrite history―or cost Chief Detective Koa Kāne his career.

The dead, a reclusive couple living off the grid, turn out to be mysterious fugitives. The CIA, the Chinese government, and the Defense Intelligence Agency, attempt to thwart Koa's investigation and obscure the victims' true identities. Undeterred by mounting political pressure, Koa pursues the truth only to find himself drawn into a web of international intrigue.

While Koa investigates, the Big Island scrambles to prepare for the biggest and most explosive political rally in its history. Despite police resources stretched to the breaking point, Koa uncovers a government conspiracy so shocking its exposure topples senior officials far beyond Hawaiʻi's shores.
It's been a while since I've updated my blog, and that's because I recently moved across the country! I did set aside all of my review copies and books I'm really excited to read, so expect updates about those on my blog and Instagram! I'm still in between places, so to speak, and I decided to try updating my blog from my phone for a bit to see how this works! I hope to get back in the regular swing of things soon as I really miss blogging and posting!
While traveling, I read Robert McCaw's Off the Grid! It's a mystery set in Hawai'i and I loved the setting of it so much! I feel like I've read so few titles set in Hawai'i, and this one really showcased the island's culture and natural surroundings. I loved the insights into Hawai'ian culture MaCaw gave. The story definitely made me want to read more about Hawai'i and maybe visit some day!
It's a well-constructed and well-crafted mystery that kept me engaged, and I didn't feel as if I missed any of the story as it's the second in a series. While a lot of stories I've read or watched about Hawai'i seem magical and perfect tourist places, McCaw shows us the darker underside to the beautiful islands, and that really adds dimension to the novel's setting, especially the juxtaposition of island life and the broader scope of US and international politics. If you like mysteries and want to read a mystery in an island setting, look into this one!
Many thanks to Oceanview Publishing and FSB Associates for sending me a complimentary copy to review! All opinions are my own