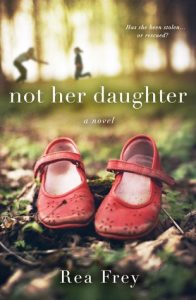 Title:

Not Her Daughter

by Rea Frey
Published by St. Martin's Griffin
Published: August 21st 2018
Genres: Thriller, Mystery
Pages: 352
Format: Trade Paper
Source: Publisher
Goodreads


Emma Grace Townsend. Five years old. Gray eyes. Brown hair. Missing since June.

Emma Townsend is lonely. Living with her cruel mother and clueless father, Emma retreats into her own world of quiet and solitude.

Sarah Walker. Successful entrepreneur. Broken-hearted. Abandoned by her mother. Kidnapper.Sarah has never seen a girl so precious as the gray-eyed child in a crowded airport terminal--and when a second-chance encounter with Emma presents itself, Sarah takes her, far away from home. But if it's to rescue a little girl from her damaging mother, is kidnapping wrong?

Amy Townsend. Unhappy wife. Unfit mother. Unsure she wants her daughter back.Amy's life is a string of disappointments, but her biggest issue is her inability to connect with her daughter. And now she's gone without a trace.

As Sarah and Emma avoid the nationwide hunt, they form an unshakeable bond. But her real mother is at home, waiting for her to return--and the longer the search for Emma continues, Amy is forced to question if she really wants her back.

Emotionally powerful and wire-taut, Not Her Daughter raises the question of what it means to be a mother--and how far someone will go to keep a child safe.
Rea Frey's
Not Her Daughter
is a well-paced domestic thriller in which Sarah Walker, a successful entrepreneur, kidnaps Emma Townsend, a five year old girl. Amy Townsend, Emma's mother, is worried about her daughter's disappearance, but she also feels some kind of secret relief in not having to deal with the personality clashes she has with her own daughter. That secret relief Amy felt was one of the most interesting parts of the book for me.
While I felt like I did have to suspend disbelief a little bit while reading this novel, I really enjoyed how this was formatted. Not Her Daughter is divided into the perspectives of Sarah Walker and Amy Townsend, each with subsections of "before," "during," and "after." The way each of these glimpses into the lives and minds of the two women added such depth to the story and kept me turning the pages because I wanted to know how this would be resolved and how everything would turn out in the end.
Some of the issues I had with the novel were the body-shaming and a few logistic issues near the end. I am tired of the trope that the "bad" women are fat and not very pretty, while the protagonist is fit and conventionally attractive. The traveling scenes at the end of the book seemed farfetched in terms of distance and time as neither seemed very clear, and that's where some of the suspension of disbelief tied in.
However, I did enjoy Frey's writing. I found it engaging and well-constructed. And I loved the dynamic of Sarah and Emma's mother/daughter bonding.
Not Her Daughter brings into question what is right and wrong in terms of a young child's life, and Rea Frey deals with the difficult subjects of abusive and neglectful children, the children of parents who were neglectful, and how each of those circumstances tie together everything a person does in their present and future.
If you enjoy domestic thrillers and are looking for a new writer to add to your reading lists, definitely pick this one up!
Thank you so much to St. Martin's Press for sending me a complimentary copy to review!