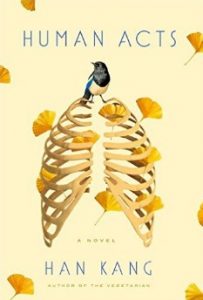 Title:

Human Acts

by Han Kang, Deborah Smith
Published by Hogarth Press
Published: January 17th 2017
Genres: Fiction
Pages: 218
Format: Hardcover
Source: Blogging for Books
Goodreads

From the internationally bestselling author of The Vegetarian, a rare and astonishing (The Observer) portrait of political unrest and the universal struggle for justice.
In the midst of a violent student uprising in South Korea, a young boy named Dong-ho is shockingly killed.
The story of this tragic episode unfolds in a sequence of interconnected chapters as the victims and the bereaved encounter suppression, denial, and the echoing agony of the massacre. From Dong-ho's best friend who meets his own fateful end; to an editor struggling against censorship; to a prisoner and a factory worker, each suffering from traumatic memories; and to Dong-ho's own grief-stricken mother; and through their collective heartbreak and acts of hope is the tale of a brutalized people in search of a voice.
An award-winning, controversial bestseller, Human Acts is a timeless, pointillist portrait of an historic event with reverberations still being felt today, by turns tracing the harsh reality of oppression and the resounding, extraordinary poetry of humanity.
How long do souls linger by the side of their bodies?
Do they really flutter away like some kind of bird? Is that what trembles the edges of the candle flame?
In such a small volume and through interconnected chapters, Human Acts recounts the violent Gwangju Uprising in South Korea in the 1980s. Each of the chapters has a different voice telling his or her version of the events, and the effect is haunting. Human Acts is just over 200 pages long, but it seemed so much more than that. I had to set it aside sometimes because the emotions and events told by the very human voices was too much to bear. I'm not usually emotionally overwhelmed by books, but Human Acts illustrates some of the very worst acts a human being could do to another being.
Each chapter follows the perspective of someone involved in the uprising from the time it happened in 1980 to the present time in 2013. I think what I liked most about it is Han Kang's own perspective of the events in the epilogue. Compared to her previous novel, Han Kang's Human Acts seems more real, visceral, and grounded, and somehow that made everything about the lengths humanity will go to prove their point that much more terrifying.
I don't want to give too much away, but it's a necessary read. Han Kang has a way with words that digs at your very core and I've not stopped thinking about this book since I've finished it. It's a timely read, especially in today's political climate.
Thanks to Crown Publishing/Blogging for Books for a review copy!