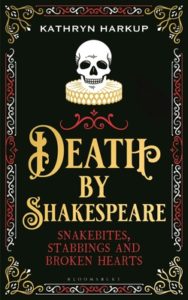 Title:

Death by Shakespeare: Snakebites, Stabbings and Broken Hearts

by Kathryn Harkup
Published by Bloomsbury SIGMA
Published: May 5, 2020
Genres: Non-Fiction, History, Science
Pages: 368
Format: Hardcover
Source: Publisher
Buy: Bookshop(afflilate link)
Goodreads


An in-depth look at the science behind the creative methods Shakespeare used to kill off his characters.

In Death By Shakespeare, Kathryn Harkup, best-selling author of A is for Arsenic and expert on the more gruesome side of science, turns her expertise to Shakespeare and the creative methods he used to kill off his characters. Is death by snakebite really as serene as Cleopatra made it seem? How did Juliet appear dead for 72 hours only to be revived in perfect health? Can you really kill someone by pouring poison in their ear? How long would it take before Lady Macbeth died from lack of sleep? Readers will find out exactly how all the iconic death scenes that have thrilled audiences for centuries would play out in real life.

In the Bard's day death was a part of everyday life. Plague, pestilence and public executions were a common occurrence, and the chances of seeing a dead or dying body on the way home from the theater was a fairly likely scenario. Death is one of the major themes that reoccurs constantly throughout Shakespeare's canon, and he certainly didn't shy away from portraying the bloody reality of death on the stage. He didn't have to invent gruesome or novel ways to kill off his characters when everyday experience provided plenty of inspiration.

Shakespeare's era was also a time of huge scientific advance. The human body, its construction and how it was affected by disease came under scrutiny, overturning more than a thousand years of received Greek wisdom, and Shakespeare himself hinted at these new scientific discoveries and medical advances in his writing, such as circulation of the blood and treatments for syphilis.

Shakespeare found 74 different ways to kill off his characters, and audiences today still enjoy the same reactions--shock, sadness, fear--that they did over 400 years ago when these plays were first performed. But how realistic are these deaths, and did Shakespeare have the science to back them up?
I love reading books that provide some kind of external context about other books or works — whether it's historical context, criticism, and, in the case of Kathryn Harkup's
Death by Shakespeare
, scientific context.
Death by Shakespeare
explores the many deaths in Shakespeare's plays and provides insightful looks into how contemporaries handled disease and death, and Harkup explores these topics with clarity, empathy, and humor. Shakespeare's body of work can be daunting and difficult for modern readers, but Harkup presents her research in an engaging way that is entertaining and in reach.
I loved the intersections of contemporary and modern medicine, as well as the examinations of how the deaths in the plays were (or weren't) performed on stage. Death today seems so far removed from our society, yet in Shakespeare's day, death was actively part of every day life. This was also something weird to read at this present time with the coronavirus pandemic because I'm confronted by death daily and still so far removed from it because no one I know has contracted it, but Shakespeare and his contemporaries confronted death in all its causes in such close proximity that it was difficult to ignore, even in his own work. The thing I loved most about Death by Shakespeare is the connection of the historical and everyday life with the science because it made everything feel so much more real. Like death, history seems something so far removed from us that we sometimes forget that history is populated by people living lives with emotional scope and depth as people live today, so in a way, putting Shakespeare's plays into context like, along with any contextual criticism, this brings the humanity of these plays to the surface.
This is something that would be beneficial to anyone reading and studying Shakespeare as it provides an engaging and accessible look into the reasons why Shakespeare likely used certain kinds of poisons, murders, and avenues of death in his work. Personally, I know having this historical/literary/scientific context when I was taking my Shakespeare course in undergrad would have added so much to my enjoyment and understanding of the plays, but I'm glad to have read it now!
Many thanks to Bloomsbury Publishing for sending me an early copy to review! All opinions are my own.