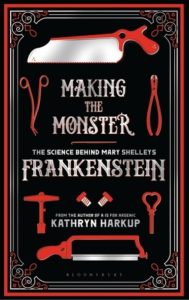 Title:

Making the Monster: The Science Behind Mary Shelley's Frankenstein

by Kathryn Harkup
Published by Bloomsbury SIGMA
Published: February 6th 2018
Genres: Non-Fiction, History, Science
Pages: 304
Format: Hardcover
Source: Purchased
Goodreads


The year 1818 saw the publication of one of the most influential science-fiction stories of all time. Frankenstein: Or, Modern Prometheus by Mary Shelley had a huge impact on gothic horror and science fiction genres. The name Frankenstein has become part of our everyday language, often used in derogatory terms to describe scientists who have overstepped a perceived moral line. But how did a 19-year-old woman with no formal education come up with the idea for an extraordinary novel such as Frankenstein? The period of 1790-1820 saw huge advances in our understanding of electricity and physiology. Sensational science demonstrations caught the imagination of the general public, and newspapers were full of tales of murderers and resurrectionists.

It is unlikely that Frankenstein would have been successful in his attempts to create life back in 1818. However, advances in medical science mean we have overcome many of the stumbling blocks that would have thwarted his ambition. We can resuscitate people using defibrillators, save lives using blood transfusions, and prolong life through organ transplants--these procedures are nowadays considered almost routine. Many of these modern achievements are a direct result of 19th century scientists conducting their gruesome experiments on the dead.

Making the Monster explores the science behind Shelley's book. From tales of reanimated zombie kittens to electrical experiments on human cadavers, Kathryn Harkup examines the science and scientists that influenced Mary Shelley and inspired her most famous creation, Victor Frankenstein. While, thankfully, we are still far from being able to recreate Victor's "creature," scientists have tried to create the building blocks of life, and the dream of creating life-forms from scratch is now tantalizingly close.
Mary Shelley's
Frankenstein
is one of my favorite books of all time, and definitely in my list of top ten classics. So when I saw Kathryn Harkup's
Making the Monster
beginning to make its rounds on Twitter and Instagram, I added it to my TBR and wishlist and waited for a good sale because based on the cover and title alone, I wanted it for my own collection.
I love literary histories like these that give the reader an insight into the creation of the novel while also providing context for the scientific aspects of Frankenstein. Sometimes I felt that the structure of the book could be better managed, but overall, I thought that the back and forth between Mary Shelley's life and the real-life science that inspired the science in her novel worked effectively. Harkup's book is incredibly well researched, and her meticulous attention to detail adds so much to the experience of reading this. For someone like me who isn't wholly aware of a lot of medical and science history, the chapters focusing on the medical and science history were the most chilling and most engaging, especially the chapter regarding autopsies and the lucrative business surrounding the digging up of cadavers to sell to institutions of higher learning.
The main issue I had with the book were the biographical sections involving Percy and Mary Shelley because a good portion of those sections read as if they had been poorly edited or were a draft that could have easily been tightened up or finished off. I think Harkup's strengths lie in scientific writing that is readily based upon set-in-stone information, whereas biographies do require a little more finesse in terms of narrative structure. For example, a lot of sentences in the biography sections ended with prepositional phrases and included digits instead of spelled out numerals for numbers under 100. Several sentences contained dangling participles, and I had to reread the sentences several times to be sure what the "it" was in the second half of the sentence. These are my editorial quibbles from my days editing student essays, so my reading experience is jarred when I notice these things in published works.
Overall, the science and medical histories and the biographies in Making the Monster are accessible to a variety of readers, whether or not they are familiar with Shelley's Frankenstein. If you're interested in the sometimes gruesome practices in the history of medicine and/or enjoy literary biographies, I recommend checking this one out!