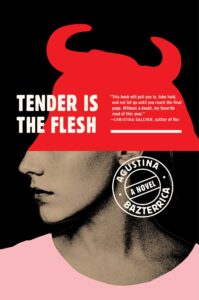 Title:

Tender Is the Flesh

by Agustina Bazterrica, Sarah Moses
Published by Scribner
Published: August 4th 2020
Genres: Fiction, Horror
Pages: 211
Format: Trade Paper
Source: Library
Buy: Bookshop(afflilate link)
Goodreads


Working at the local processing plant, Marcos is in the business of slaughtering humans —though no one calls them that anymore. His wife has left him, his father is sinking into dementia, and Marcos tries not to think too hard about how he makes a living. After all, it happened so quickly. First, it was reported that an infectious virus has made all animal meat poisonous to humans. Then governments initiated the "Transition." Now, eating human meat—"special meat"—is legal. Marcos tries to stick to numbers, consignments, processing.

Then one day he's given a gift: a live specimen of the finest quality. Though he's aware that any form of personal contact is forbidden on pain of death, little by little he starts to treat her like a human being. And soon, he becomes tortured by what has been lost—and what might still be saved.
I finished this book almost two months ago, and I still think about it at least once a week. I read a
lot
, so it's rare that a book will stick with me for so long because my brain just jumps to the next thing because yay distractibility, but
Tender is the Flesh
is going to stick with me for a while.
Essentially, animal flesh becomes inedible, and the government enters the "Transition" in which "special meat" is processed for consumption. "Special meat" is human meat, and Bazterrica holds nothing back in the description of that transition. Marcos, the main character, is a processor at one of these processing plants, and the first third of the novel is him methodically trying to distance himself from what he is participating in.
When he's given a live female specimen, though… that's when everything turns upside down. While he begins to treat this female specimen with a sort of kindness and gentleness, the violence of everything else, including of Marcos' own doing, amplifies, and the novel turns more gruesome and brutal as it devolves into how brutal people (especially men) can be to one another when it comes to power and control.
This was a book I could not put down because I needed to know what happened next, how this would all resolve, and the last page of this novel is one of the most chilling conclusions I have ever read.