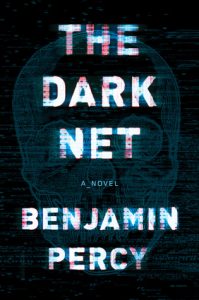 Title:

The Dark Net

by Benjamin Percy
Published by Houghton Mifflin Harcourt
Published: August 1st 2017
Genres: Horror, Thriller
Pages: 272
Format: eBook
Source: Netgalley
Goodreads


Hell on earth is only one click of a mouse away…

The Dark Net is real. An anonymous and often criminal arena that exists in the secret far reaches of the Web, some use it to manage Bitcoins, pirate movies and music, or traffic in drugs and stolen goods. And now an ancient darkness is gathering there as well. This force is threatening to spread virally into the real world unless it can be stopped by members of a ragtag crew:

Twelve-year-old Hannah -- who has been fitted with the Mirage, a high-tech visual prosthetic to combat her blindness-- wonders why she sees shadows surrounding some people.

Lela, a technophobic journalist, has stumbled upon a story nobody wants her to uncover.

Mike Juniper, a one-time child evangelist who suffers from personal and literal demons, has an arsenal of weapons stored in the basement of the homeless shelter he runs.

And Derek, a hacker with a cause, believes himself a soldier of the Internet, part of a cyber army akin to Anonymous.

They have no idea what the Dark Net really contains.

Set in present-day Portland, The Dark Net is a cracked-mirror version of the digital nightmare we already live in, a timely and wildly imaginative techno-thriller about the evil that lurks in real and virtual spaces, and the power of a united few to fight back
Holy hell, what did I just read?? Twelve year old Hannah has been fitted with a device called Mirage that's very Geordi La Forge, and when she sees through it, she can detect auras around certain people that she wasn't able to see before. From that moment forward, the story just gets weirder and weirder. Hannah's technophobic aunt, Lela, is a reporter who is always chasing after the next story. Lela once interviewed a guy named Mike Juniper for a lead, and Mike Juniper is a former child evangelist who has a host of weapons in his homeless shelter's basement to ward off attacks from demons. The demons of the near future don't possess people like they used to. Everything, including possession, has gone digital.
Benjamin Percy's The Dark Net is a demonic techno-thriller that makes you think about all of the information we willingly or inadvertently give to the all-knowing Internet. With the widespread hackings of consumer data over the last few years, with our constant life updates and thoughts on various social media platforms, one has to wonder what's being done with all of that information. We're being reduced from DNA to ones and zeroes. Our lives, our life data, is collected, traded, and sold by users of the dark net, and ultimately is used against us in the end.
I don't want to give too much of the plot away, but I thought that the dark net used in demonic practices and zombie apocalypses was a fascinating twist. It's not something you often think about in our digitally infatuated age. It's not something we can escape at this point, so how are you going go guard your data, your privacy, and quite literally your life? The Dark Net is a creepy thriller that riffs on horror and zombie tropes, and it'll make you think twice about the information age.
Thank you to Houghton Mifflin Harcourt and Netgalley for a review copy! All opinions are my own.