Another little list of reviews so soon because I have a few digital ARCs that I'd like to chat about! These are either relatively recent releases or will be releasing soon!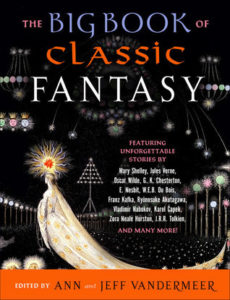 Title:

The Big Book of Classic Fantasy

by Ann VanderMeer, Jeff VanderMeer
Published by Vintage
Published: July 2nd 2019
Genres: Fantasy, Fiction
Pages: 848
Format: eBook
Source: Netgalley
Goodreads


Unearth the enchanting origins of fantasy fiction with a collection of tales as vast as the tallest tower and as mysterious as the dark depths of the forest. Fantasy stories have always been with us. They illuminate the odd and the uncanny, the wondrous and the fantastic: all the things we know are lurking just out of sight--on the other side of the looking-glass, beyond the music of the impossibly haunting violin, through the twisted trees of the ancient woods. Other worlds, talking animals, fairies, goblins, demons, tricksters, and mystics: these are the elements that populate a rich literary tradition that spans the globe. A work composed both of careful scholarship and fantastic fun, The Big Book of Classic Fantasy is essential reading for anyone who's never forgotten the stories that first inspired feelings of astonishment and wonder.

INCLUDING:

*Stories by pillars of the genre like the Brothers Grimm, Hans Christian Andersen, Mary Shelley, Christina Rossetti, L. Frank Baum, Robert E. Howard, and J. R. R. Tolkien *Fantastical offerings from literary giants including Edith Wharton, Leo Tolstoy, Willa Cather, Zora Neale Hurston, Vladimir Nabokov, Hermann Hesse, and W.E.B. Du Bois *Rare treasures from Asian, Eastern European, Scandinavian, and Native American traditions *New translations, including fourteen stories never before in English

PLUS:

*Beautifully Bizarre Creatures! *Strange New Worlds Just Beyond the Garden Path! *Fairy Folk and Their Dark Mischief! *Seriously Be Careful--Do Not Trust Those Fairies!
I received an ARC for this via Netgalley and yo, you're going to want to read this. I only read the intro and about twenty-odd stories and already preordered it so I can savor the rest of it in my hands. This is fantasy at its core, original and weird and more than unsettling. It showcases the history of the fantasy genre and how it's evolved throughout time. It's a great companion to their Big Book of Science Fiction. The VanderMeers know what they're doing, and they're amazing at it. Also, look at that cover. Once I have the physical copy in my hands, I'll write a more in depth review regarding the actual stories!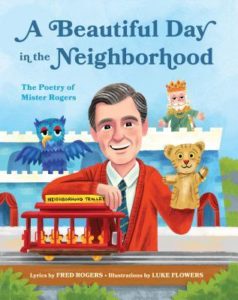 Title:

A Beautiful Day in the Neighborhood: The Poetry of Mister Rogers

by Fred Rogers, Luke Flowers, Josie Carey
Published by Quirk Books
Published: March 19. 2019
Genres: Non-Fiction
Pages: 144
Format: eBook
Source: Netgalley
Goodreads


For the first time ever, the beloved songs from Mister Rogers' Neighborhood are collected here in a charmingly-illustrated treasury, sure to be cherished by adults who grew up with Mister Rogers, and a new generation of children alike.

Mister Rogers' Neighborhood had a revolutionary impact on children's television, and on millions of children themselves. Through songs, puppets, and frank conversations, Mister Rogers instilled the values of kindness, patience, and self-esteem in his viewers, and most of all, taught children how loved they were, just by being themselves. A Beautiful Day in the Neighborhood reimagines the songs from the show as poetry, ranging from the iconic ("Won't You Be My Neighbor?") to the forgotten gems. The poem are funny, sweet, silly, and sincere, dealing with topics of difficult feelings, new siblings, everyday routines, imagination, and more. Perfect for bedtime, sing-along, or quiet time, this book of nostalgic and meaningful poetry is the perfect gift for every child--including the child in all of us.
This is a wonderful collection of the poetry and songs from the Mister Rogers' Neighborhood series. It brought me back to my childhood and all of those memories watching Mister Rogers on TV, and the illustrations inside modernize and bring it to life all over again for old and new audiences alike. This would make an amazing gift for all ages, and the poetry in this book remind us of all the lessons and goodness Mister Rogers taught us over the years.
Many thanks to Quirk Books and Netgalley for a review copy! All opinions are my own.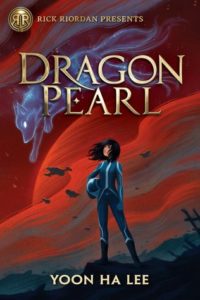 Title:

Dragon Pearl

by Yoon Ha Lee
Published by Rick Riordan Presents
Published: January 15th 2019
Genres: Science Fiction, Middle Grade
Pages: 312
Format: eBook
Source: Library
Goodreads


To keep the family safe, Min's mother insists that none of them use any fox-magic, such as Charm or shape-shifting. They must appear human at all times. Min feels hemmed in by the household rules and resents the endless chores, the cousins who crowd her, and the aunties who judge her. She would like nothing more than to escape Jinju, her neglected, dust-ridden, and impoverished planet. She's counting the days until she can follow her older brother, Jun, into the Space Forces and see more of the Thousand Worlds.

When word arrives that Jun is suspected of leaving his post to go in search of the Dragon Pearl, Min knows that something is wrong. Jun would never desert his battle cruiser, even for a mystical object rumored to have tremendous power. She decides to run away to find him and clear his name.

Min's quest will have her meeting gamblers, pirates, and vengeful ghosts. It will involve deception, lies, and sabotage. She will be forced to use more fox-magic than ever before, and to rely on all of her cleverness and bravery. The outcome may not be what she had hoped, but it has the potential to exceed her wildest dreams.
Dragon Pearl
was everything I had hoped for in a middle grade science fiction book, and it made me want to read more middle grade science fiction. I feel like I haven't seen much mainstream middle grade science fiction as a lot of it tends to skew to the fantasy and the weird, but I think I need to dig a little deeper (or start writing it myself!).
Dragon Pearl
captured my attention immediately, and I didn't want it to end. It's a great story about family and what one must do for yourself in order to survive, especially in a cold, harsh environment like
space
. Definitely check this out if you're looking for a fun sci-fi summer read.