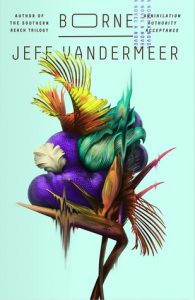 Title:

Borne

by Jeff VanderMeer
Published: April 25th 2017
Genres: Science Fiction
Pages: 323
Format: Hardcover
Source: Work
Goodreads


"Am I a person?" Borne asked me.

"Yes, you are a person," I told him. "But like a person, you can be a weapon, too." In Borne, a young woman named Rachel survives as a scavenger in a ruined city half destroyed by drought and conflict. The city is dangerous, littered with discarded experiments from the Company—a biotech firm now derelict—and punished by the unpredictable predations of a giant bear. Rachel ekes out an existence in the shelter of a run-down sanctuary she shares with her partner, Wick, who deals his own homegrown psychoactive biotech.

One day, Rachel finds Borne during a scavenging mission and takes him home. Borne as salvage is little more than a green lump—plant or animal?—but exudes a strange charisma. Borne reminds Rachel of the marine life from the island nation of her birth, now lost to rising seas. There is an attachment she resents: in this world any weakness can kill you. Yet, against her instincts—and definitely against Wick's wishes—Rachel keeps Borne. She cannot help herself. Borne, learning to speak, learning about the world, is fun to be with, and in a world so broken that innocence is a precious thing. For Borne makes Rachel see beauty in the desolation around her. She begins to feel a protectiveness she can ill afford.

"He was born, but I had borne him."

But as Borne grows, he begins to threaten the balance of power in the city and to put the security of her sanctuary with Wick at risk. For the Company, it seems, may not be truly dead, and new enemies are creeping in. What Borne will lay bare to Rachel as he changes is how precarious her existence has been, and how dependent on subterfuge and secrets. In the aftermath, nothing may ever be the same.
"He was 
born
, but I had borne him."
Jeff VanderMeer's Borne evokes a sense of the weird and the unsettling in a probable near-future reminiscent of Margaret Atwood's Maddaddam trilogy. In the novel, a young woman named Rachel scavenges and survives in a city ravaged by an unnamed ecological disaster. The city's grounds are littered with the remnants of the now-defunct Company's biotech, and the city is not-so-subtly governed by the actions of Mord, a giant flying bear. During one of her scavenging missions, Rachel finds a little lump of something not quite plant and not quite animal named Borne. Borne disrupts Rachel's life little by little until his very existence threatens to upheave everything in Rachel's life and in the strange ecosystem of Mord's territory.
This standalone novel from the author of the Southern Reach trilogy explores how humans abuse science and nature for technological or monetary gain, and Borne shows us the aftermath of that greed. The novel also explores what it means to be a person, what it means to love and then to let go of love, what it means to live and then to die, and what it means when one finds beauty in the midst of so much chaos. VanderMeer manages to pack so much description, emotion, and longing into such a short novel, and it's a novel that will make you reread passages and sentences again and again because of their beauty and complexity.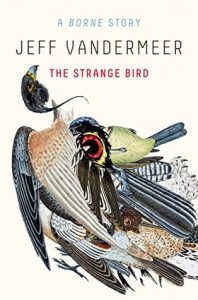 Title:

The Strange Bird: A Borne Story

by Jeff VanderMeer
Published: August 1st 2017
Genres: Science Fiction
Pages: 96
Format: eBook
Source: Netgalley
Goodreads


The Strange Bird
is a companion story to VanderMeer's 
Borne
, and the novella adds even more depth to the world in which VanderMeer has created in 
Borne
. The Strange Bird is part human, part bird, and she is rejected from the world in which she lives, because she is not wholly human nor wholly animal. The timeline of this novella occurs before, during, and after the events of 
Borne
and offers an outside view of those events. While 
Borne
explored in its complexity what it means to be a 
person
, 
The Strange Bird
explores what it means to be free and know oneself when the world seems to "naturally" conspire against your very existence. It's a highly recommended follow-up if you've read 
Borne
and wanted more.