It's been a while since I've done a little list of reviews! I tend to do this when I only have a few thoughts about a book, it didn't excite me much, or a myriad of other reasons. Sometimes I also just like to get reviews done and get them off my to-do list! I also am the sort of person who sometimes prefers the shorter review. Give me thoughts, not the plot! These are all super backlist books for me because I've had them on my shelves forever.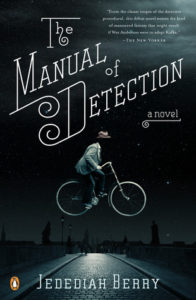 Title:

The Manual of Detection

by Jedediah Berry
Published by Penguin Books
Published: January 26th 2010
Genres: Fiction, Fantasy
Pages: 278
Format: Trade Paper
Source: Purchased
Goodreads


"This debut novel weaves the kind of mannered fantasy that might result if Wes Anderson were to adapt Kafka." --The New Yorker

Reminiscent of imaginative fiction from Jorge Luis Borges to Jasper Fforde yet dazzlingly original, The Manual of Detection marks the debut of a prodigious young talent. Charles Unwin toils as a clerk at a huge, imperious detective agency located in an unnamed city always slick with rain. When Travis Sivart, the agency's most illustrious detective, is murdered, Unwin is suddenly promoted and must embark on an utterly bizarre quest for the missing investigator that leads him into the darkest corners of his soaking, somnolent city. What ensues is a noir fantasy of exquisite craftsmanship, as taut as it is mind- blowing, that draws readers into a dream world that will change what they think about how they think.
One of my professors used this book in one of her mysteries English courses and since I had already graduated, I really wanted to read it after she spoke about it with me over lunch. However, it sat on my shelves for almost three years until I finally picked it up in one of my "I'm going to choose some books I've been meaning to read since forever and actually sit down and read them" phases. (If you're curious, I picked four and have since read three!) I appreciated this for what it does. I hesitate to call it magical realism because that's Latin American in its roots, so it's probably more along the lines of fabulism.
The Manual of Detection
plays with the mystery genre and all its tropes and twists them up and around. I enjoyed it while I was reading it and I read it in a day, but I ultimately found something weirdly lacking with it.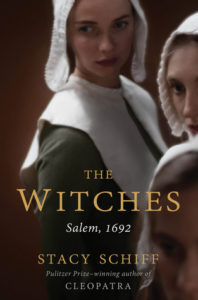 Title:

The Witches: Salem, 1692

by Stacy Schiff
Published: October 27th 2015
Genres: History, Non-Fiction
Pages: 498
Format: Trade Paper
Source: Work
Goodreads


Pulitzer Prize winner Stacy Schiff, author of the #1 bestseller Cleopatra, provides an electrifying, fresh view of the Salem witch trials.

The panic began early in 1692, over an exceptionally raw Massachusetts winter, when a minister's niece began to writhe and roar. It spread quickly, confounding the most educated men and prominent politicians in the colony. Neighbors accused neighbors, husbands accused wives, parents and children one another. It ended less than a year later, but not before nineteen men and women had been hanged and an elderly man crushed to death.

Speaking loudly and emphatically, adolescent girls stood at the center of the crisis. Along with suffrage and Prohibition, the Salem witch trials represent one of the few moments when women played the central role in American history. Drawing masterfully on the archives, Stacy Schiff introduces us to the strains on a Puritan adolescent's life and to the authorities whose delicate agendas were at risk. She illuminates the demands of a rigorous faith, the vulnerability of settlements adrift from the mother country, perched--at a politically tumultuous time--on the edge of what a visitor termed a "remote, rocky, barren, bushy, wild-woody wilderness." With devastating clarity, the textures and tension of colonial life emerge; hidden patterns subtly, startlingly detach themselves from the darkness. Schiff brings early American anxieties to the fore to align them brilliantly with our own. In an era of religious provocations, crowdsourcing, and invisible enemies, this enthralling story makes more sense than ever.

The Witches is Schiff's riveting account of a seminal episode, a primal American mystery unveiled--in crackling detail and lyrical prose--by one of our most acclaimed historians.
The Witches
is one dense book, in content and in pages. I grabbed this off the ARC shelf at work forever ago because I enjoy reading about the Salem Witch Trials, but as usual life and other books got in the way. Now that I'm seriously weeding my shelves and my ARCs, I told myself I had to read this one now or let it go. I read the first few chapters and got sucked in to the bizarreness of it all, but it's very dense and difficult to read at times from a technical standpoint because it almost expects you to have a solid knowledge of Puritan American history. I do find the parallels fascinating though because so much of it is still in practice today in regards to the treatment of women.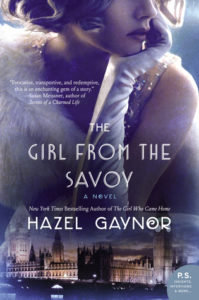 Title:

The Girl from the Savoy

by Hazel Gaynor
Published by William Morrow Paperbacks
Published: June 7th 2016
Genres: Fiction, Historical
Pages: 419
Format: eBook
Source: Purchased
Goodreads


Presenting a dazzling new historical novel … The Girl From The Savoy is as sparkling as champagne and as thrilling as the era itself.

Sometimes life gives you cotton stockings. Sometimes it gives you a Chanel gown …

Dolly Lane is a dreamer; a downtrodden maid who longs to dance on the London stage, but her life has been fractured by the Great War. Memories of the soldier she loved, of secret shame and profound loss, by turns pull her back and spur her on to make a better life.

When she finds employment as a chambermaid at London's grandest hotel, The Savoy, Dolly takes a step closer to the glittering lives of the Bright Young Things who thrive on champagne, jazz and rebellion. Right now, she must exist on the fringes of power, wealth and glamor—she must remain invisible and unimportant.

But her fortunes take an unexpected turn when she responds to a struggling songwriter's advertisement for a 'muse' and finds herself thrust into London's exhilarating theatre scene and into the lives of celebrated actress, Loretta May, and her brother, Perry. Loretta and Perry may have the life Dolly aspires to, but they too are searching for something.

Now, at the precipice of the life she has and the one she longs for, the girl from The Savoy must make difficult choices: between two men; between two classes, between everything she knows and everything she dreams of. A brighter future is tantalizingly close—but can a girl like Dolly ever truly leave her past behind?
I love historical fiction, the Jazz Age, and Hazel Gaynor's writing, but this story took a while to gain momentum and really pique my interest. I mostly read it on my phone in slow times while out of the house, so I took a little while longer to read this than I do other books. The voices were charming, life at the Savoy and in London were richly described, but the ways in which the characters intertwined with each other just seemed a bit
too
perfect.