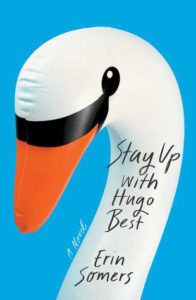 Title:

Stay Up with Hugo Best

by Erin Somers
Published by Scribner
Published: April 2nd 2019
Genres: Fiction
Pages: 272
Format: Hardcover
Source: Publisher
Goodreads


An incredibly timely, terrifically witty and moving debut about a young writer's assistant on a late night comedy show and what transpires when she accepts an invitation from its enigmatic host to spend a long weekend at his mansion in Connecticut.

June Bloom is a broke, cynical twenty-nine-year-old writer's assistant on the late-night comedy show, Stay Up with Hugo Best. Hugo Best is in his sixties, a beloved icon of TV and humor, and a notorious womanizer. After he unexpectedly retires and a party is held for his now unemployed staff, June ends up at a dive bar for an open-mic night and prepares for the sad return to the anonymous comedian lifestyle. What she's not prepared for is a run-in with Hugo at that dive bar. Nor for the invitation that swiftly follows: Hugo asks June to come to his mansion in Greenwich for the long Memorial Day weekend. "No funny business," he insists.

June, in need of a job and money, confident she can handle herself, but secretly harboring the remains of a childhood crush on the charming older comedian and former role model, accepts. The exact terms of the visit are never spelled out, but June is realistic and clear-eyed enough to guess. Even so, as the weekend unfolds and the enigmatic Hugo gradually reveals himself, their dynamic proves to be much more complicated and less predictable than she expected.

At once hilarious and poignant, brilliantly incisive and terrifically propulsive, Stay Up with Hugo Best is an incredibly timely exploration of sexual politics in the #MeToo age, and the unforgettable story of one young woman's poignant stumbling into adulthood.
June Bloom, a twenty-nine year old writing assistant for a late night comedy show called "Stay Up with Hugo Best," finds herself unemployed after Hugo Best suddenly announces his retirement from late-night television. Stay Up with Hugo Best is a wry look into late night television that is a little reminiscent of NBC's 30 Rock's flavor in the sense that it gives you that behind-the-scenes glimpse into the aftermath of what happens once a popular late-night comedy show ends.
As a suddenly-unemployed almost thirty year old, June has to figure out what she wants to do and where she's going now that her current career trajectory has come to a halt. Hugo Best has to reconcile his past, present, and future, scandals and all. Their two lines entangle more once Hugo invites June to spend some time with him at his mansion.
The lines entangle more the closer Hugo and June become, and it's a timely look at the #metoo movement as June struggles to balance what she wants and she believes in while observing the men in her life and Hugo's life take what they want with essentially no consequences.
Over the four days she spends with him, June realizes the realities behind the fame she had obsessed over and the costs of such extravagance, and once she leaves, she's neither fully satisfied or sure where her life will go next, but the weekend at Hugo Best's mansion certainly signaled a shift in her perception.
Although all of the characters were unlikable at times, Somers' debut novel is a sly look into our obsessions with fame, television, and the sordid details behind the scenes. I felt June was a little too passive for the career she wanted to be in, but in a way it works for this sort of novel. Overall, Last Night with Hugo Best is a solid debut novel and worth checking out if you enjoy late-night television and behind-the-scenes glimpses into famous lives.
Thank you to Scribner for sending me a complimentary copy to review! All opinions are my own.