I found this TBR book tag on Rae's blog, Thrifty Bibliophile, and decided to do it! I'm partially a mood reader who likes the structure of a TBR when I can't think of anything else to read. It's a little reminder that I set parameters for myself and I actually do have something new to read!
---
HOW DO YOU KEEP TRACK OF YOUR TBR LIST?
I keep a stack near my bed of immediate reads like ARCS, review copies, and maybe a small paper list for a monthly TBR, but otherwise I use Goodreads!
If you aren't following me on Goodreads yet, let's be friends!
IS YOUR TBR MOSTLY PRINT OR E-BOOK?
Ha, it's mostly print, but I have been taking advantage of too many e-book sales.
HOW DO YOU DETERMINE WHICH BOOK FROM YOUR TBR TO READ NEXT?
I'm a little bit of a mood reader and a little bit of a planner. If I have reviews due soon, I'll likely pick up the ARC/review copy so I can cross that off my list. A lot of the times I'll just pick up a book I've just got or I've been meaning to read and go from there.
A BOOK THAT HAS BEEN ON YOUR TBR THE LONGEST:
According to Goodreads, it's Peter York's The Blue Riband: The Piccadilly Line, which is part of a series of Penguin books celebrating the London Underground. I never got around to buying them while I was over there, and I've not thought about them since. Hmm. Maybe this means I need to do another clean up of my Goodreads shelves…
A BOOK THAT YOU RECENTLY ADDED TO YOUR TBR LIST:
I added a lot to my Goodreads want to read shelf on Saturday, but Tochi Onyebuchi's War Girls is one that I can't wait to read!
A BOOK ON YOUR TBR STRICTLY BECAUSE OF ITS BEAUTIFUL COVER:
I saw Colette the film and I don't know if I'll ever really get around to reading this, but I love the cover.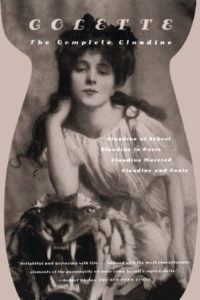 A BOOK ON YOUR TBR THAT YOU NEVER PLAN ON ACTUALLY READING:
Every Single Second, by Tricia Springstubb. So I'm deleting it right now.
AN UNPUBLISHED BOOK ON YOUR TBR THAT YOU'RE EXCITED FOR:
TAMSYN MUIR'S GIDEON THE NINTH!!!!!
A BOOK ON YOUR TBR THAT BASICALLY EVERYONE HAS READ BUT YOU:
V.E. Schwab's Vengeful…
A BOOK ON YOUR TBR EVERYONE RECOMMENDS YOU:
Probably Jasper Fforde's stuff. I read The Eyre Affair many years ago, but never got around to reading anything else of his.
A BOOK ON YOUR TBR YOU'RE VERY EXCITED TO READ:
Samantha Shannon's The Priory of the Orange Tree.
THE NUMBER OF BOOKS ON YOUR GOODREADS TBR SHELF:
846. I did a cleanout last summer and obviously added more. I might go back and do some rearranging this summer and continue to do it every year!
I TAG…
Whoever wants to do this tag!