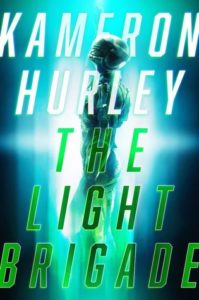 Title:

The Light Brigade

by Kameron Hurley
Published by Saga Press
Published: March 19th 2019
Genres: Science Fiction
Pages: 356
Format: Hardcover
Source: Purchased
Goodreads


From the Hugo Award­­–winning author of The Stars Are Legion comes a brand-new science fiction thriller about a futuristic war during which soldiers are broken down into light in order to get them to the front lines on Mars.

They said the war would turn us into light. I wanted to be counted among the heroes who gave us this better world.

The Light Brigade: it's what soldiers fighting the war against Mars call the ones who come back…different. Grunts in the corporate corps get busted down into light to travel to and from interplanetary battlefronts. Everyone is changed by what the corps must do in order to break them down into light. Those who survive learn to stick to the mission brief—no matter what actually happens during combat.

Dietz, a fresh recruit in the infantry, begins to experience combat drops that don't sync up with the platoon's. And Dietz's bad drops tell a story of the war that's not at all what the corporate brass want the soldiers to think is going on.

Is Dietz really experiencing the war differently, or is it combat madness? Trying to untangle memory from mission brief and survive with sanity intact, Dietz is ready to become a hero—or maybe a villain; in war it's hard to tell the difference.

A worthy successor to classic stories like Downbelow Station, Starship Troopers, and The Forever War, The Light Brigade is award-winning author Kameron Hurley's gritty time-bending take on the future of war.
When Kameron Hurley's
The Stars are
Legion
came out in 2017, I devoured it and recommended it to everyone who ever asked me for a recommendation. I since then have bought everything Hurley has written (a lot of it is still on the TBR) and preordered
The Light Brigade
as soon as I could.
Dietz is a non-citizen in a corporate-driven future in which citizenship is highly valued. When her home city is destroyed by a separatist Mars, Dietz signs up to join the military in order to have her revenge. Dietz discovers that the military has designed their own tech for travel — it involves breaking oneself down into particles of light and beaming from one zone to another. Of course the process isn't perfect, and results in a lot of body horror and what it means to be contained in a physical body. Sometimes military sci-fi seems inaccessible to me because I'm not entirely too familiar with weapons and a whole lot of military protocol, but Hurley makes it easy, and that's a difficult job to do. I felt like I could imagine myself being in Dietz's place the whole time, struggling through her decisions and actions and rejoicing when she found shreds of hope.
The Light Brigade is everything I hoped for and more. It seriously exceeded my expectations and has already landed on my top ten reads of the year. Hurley harkens back to classic military sci-fi flavors while making it simultaneously, terrifically modern. Hurley doesn't hold back on her examinations of capitalism, what would happen if corporations went beyond "being human" in the eyes of the law, war, sanity, time; and Hurley does this with so much passion and emotion that made it difficult to put the book down. I had to keep reading because I wanted to see where she'd take this.
It's a sharp, dazzling sci-fi masterpiece that deserves a place on your shelf. It's a little bit Haldeman, a little bit PKD, and a little bit Heinlein, but Hurley takes it to the next level. So pick it up, and The Stars Are Legion if you haven't read that yet either.