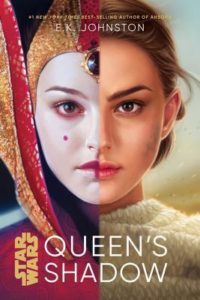 Title:

Star Wars: Queen's Shadow

by E.K. Johnston
Published by Disney Lucasfilm Press
Published: March 5th 2019
Genres: Science Fiction, Young Adult
Pages: 345
Format: Hardcover
Source: Purchased
Goodreads


The end of her reign is just the beginning...

When Padmé Amidala steps down from her position as Queen of Naboo, she is ready to set aside her title and return to life outside of the spotlight. But to her surprise, the new queen asks Padmé to continue serving their people—this time in the Galactic Senate. Padmé is unsure about the new role but cannot turn down the request, especially since, thanks to her dearest friend—and decoy—Sabé, she can be in two places at once. So while Padmé plunges into politics, Sabé sets off on a mission dear to Padmé's heart.

On the glistening capital planet Coruscant, Padmé's new Senate colleagues regard her with curiosity—and with suspicion for her role in ousting the previous chancellor. Posing as a merchant on Tatooine, Sabé has fewer resources than she thought and fewer options than she needs.

Together with Padmé's loyal handmaidens, Padmé and Sabé must navigate treacherous politics, adapt to constantly changing landscapes, and forge a new identity beyond the queen's shadow.
I've fought evil, and it was easy: I shot it. It's apathy I can't stand.
Star Wars Episode I: The Phantom Menace came out twenty years ago this month. That blows my mind, because I still remember when the promotional material started appearing everywhere and then finally seeing the movie and falling head over heels in love with Queen Amidala/Padmé Naberrie. I loved her character, her gowns, her handmaidens, and the way she was able to navigate her day to day life disguised as a handmaiden while her decoy Sabé assumed the persona of Queen Amidala.
Back then, I wanted to know more about Padmé, where she came from, and who she was behind the scenes. Over the years, there were a few things that were sprinkled into the Star Wars novels but not enough to fully satiate what I was wanting to see. Then comes E.K. Johnston's Queen's Shadow and it's everything I've wanted for twenty years. And I only want more.
Queen's Shadow is a quiet Star Wars novel, going behind the scenes and to the front lines of Padmé's reign as queen and her time as senator. We're able to see the connections between Episode I to Episode III from her perspective in a quietly tense, masterful way. You won't see big battles on planets or in space, but you will get to see the heart and soul behind one of Star Wars' most interesting characters. We also get to know Padmé's handmaidens, and I was especially happy to see Sabé in this book.
I can't really describe how I felt while reading this book, except that it was a good feeling and full of nostalgia. I was twelve when Episode I came out, and I was obsessed with Padmé's costuming and character. I doodled her everywhere, I bought the dolls so I could marvel at the costumes in person and display them on my shelves (I still have them, too!). All I wanted was more of her from the movies and the extended universe, and it wasn't until twenty years later that this wish was fulfilled. Queen's Shadow is easily one of my favorite Star Wars novels of all time.