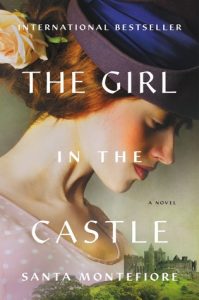 Title:

The Girl in the Castle

by Santa Montefiore
Published by William Morrow Paperbacks
Published: September 27th 2016
Genres: Fiction, Historical
Pages: 576
Format: Trade Paper
Source: Library
Goodreads


International sensation Santa Montefiore presents the first book in a trilogy that follows three Irish women through the decades of the twentieth century—perfect for fans of Kate Morton and Hazel Gaynor.
Born on the ninth day of the ninth month in the year 1900, Kitty Deverill is special as her grandmother has always told her. Built on the stunning green hills of West Cork, Ireland, Castle Deverill is Kitty's beloved home, where many generations of Deverills have also resided. Although she's Anglo-Irish, Kitty's heart completely belongs to the wild countryside of the Emerald Isle, and her devotion to her Irish-Catholic friends Bridie Doyle, the daughter of the castle's cook, and Jack O'Leary, the vet's son, is unmatched—even if Jack is always reminding her that she isn't fully Irish. Still, Jack and Kitty can't help falling in love although they both know their union faces the greatest obstacles since they are from different worlds.
Bridie cherishes her friendship with Kitty, who makes her feel more like her equal than a servant. Yet she can't help dreaming of someday having all the wealth and glamour Kitty's station in life affords her. But when she discovers a secret that Kitty has been keeping from her, Bridie finds herself growing resentful toward the girl in the castle who seems to have it all.
When the Irish revolt to throw over British rule in Southern Ireland, Jack enlists to fight. Worried for her safety, Jack warns Kitty to keep her distance, but she refuses and throws herself into the cause for Irish liberty, running messages and ammunition between the rebels. But as Kitty soon discovers, her allegiance to her family and her friends will be tested—and when Castle Deverill comes under attack, the only home and life she's ever known are threatened.
A powerful story of love, loyalty, and friendship, The Girl in the Castle is an exquisitely written novel set against the magical, captivating landscape of Ireland.
The Girl in the Castle
is about the lives of women around an estate in Ireland. It's the first in a trilogy that spans before, during, and just after World War I and the Irish War of Independence. It's expansive and well-detailed historical fiction, but I found it typical of the genre. There's romance, war, and rape. I am so incredibly tired of rape being used as a plot device to make us feel pity for that character. While I understand it can be used as a plot device to explore certain aspects of how women and men are treated in society, I really hate when it's used to just add "flavor" to a narrative as I feel like it's used here.
Aside from that, it's a well-structured historical novel that kept me interested. It has a wide variety of characters from all backgrounds, and Montefiore explores nearly all aspects of the characters and compels you to care for the protagonists in some way. Montefiore also weaves historical significance of both the Irish War for Independence and World War I throughout the narrative, showing how both wars affect each of the characters and the fate of the estate.
Sometimes I felt as if there were too many characters to follow, and I hope there are fewer in the second and third novel. Often times what happens with several characters to follow in any series is that the storylines blur and individual voices are hard to differentiate.
It's a novel that was reminiscent of Downton Abbey, and if you're in the mood for something more after finishing that show, this is the start of an expansive trilogy. I am looking forward to reading the next one!