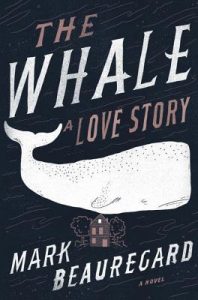 Title:

The Whale: A Love Story

by Mark Beauregard
Published by Viking
Published: June 14th 2016
Genres: Fiction
Pages: 288
Format: Hardcover
Source: Library
Goodreads


A rich and captivating novel set amid the witty, high-spirited literary society of 1850s New England, offering a new window on Herman Melville's emotionally charged relationship with Nathaniel Hawthorne and how it transformed his masterpiece, Moby-Dick In the summer of 1850, Herman Melville finds himself hounded by creditors and afraid his writing career might be coming to an end—his last three novels have been commercial failures and the critics have turned against him. In despair, Melville takes his family for a vacation to his cousin's farm in the Berkshires, where he meets Nathaniel Hawthorne at a picnic—and his life turns upside down. The Whale chronicles the fervent love affair that grows out of that serendipitous afternoon. Already in debt, Melville recklessly borrows money to purchase a local farm in order to remain near Hawthorne, his newfound muse. The two develop a deep connection marked by tensions and estrangements, and feelings both shared and suppressed. Melville dedicated Moby-Dick to Hawthorne, and Mark Beauregard's novel fills in the story behind that dedication with historical accuracy and exquisite emotional precision, reflecting his nuanced reading of the real letters and journals of Melville, Hawthorne, Oliver Wendell Holmes, and others. An exuberant tale of longing and passion, The Whale captures not only a transformative relationship—long the subject of speculation—between two of our most enduring authors, but also their exhilarating moment in history, when a community of high-spirited and ambitious writers was creating truly American literature for the first time.
I love reading fictional works about author's lives, I can't help it. It's like literary gossip magazines, and I eat it like candy. Aside from knowing a little bit about Nathaniel Hawthorne's life due to early American literature courses and my own delving for the science fiction course I taught this semester, I had basically no clue about Hawthorne's relationship with Herman Melville.
Mallory's review
at Goodreads pretty much sums up my reaction to the novel in the end: "Never in my WHOLE LIFE did I expect to be breathlessly swept along like
if they don't kiss I am going to die
over Herman Melville and Nathaniel Hawthorne, but here we are."
The most incredible thing about the novel is that in the novel Herman Melville's letters to Hawthorne are like 98% real. Obviously with historical fiction, liberties are taken and there are about two letters that have been added to or fabricated, but the rest of Melville's passion in any capacity for Hawthorne is clearly evident. Most, if not all, of Hawthorne's letters to Melville don't exist anymore, but Beauregard does an excellent job of filling in the gaps.
Until this novel, I thought of Hawthorne and Melville as part of those stuffy early American authors that lead stuffy lives and wrote convoluted, dense novels, but now more than ever I want to read Moby Dick and Hawthorne's major novels that he wrote before, during, and after this brief period of their lives. It's magical, and sometimes historical context means everything.