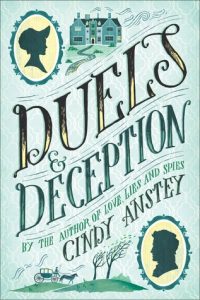 Title:

Duels and Deception

by Cindy Anstey
Published by Swoon Reads
Published: April 11th 2017
Genres: Young Adult, Historical, Fiction
Pages: 368
Format: eBook
Source: Netgalley
Goodreads


Miss Lydia Whitfield, heiress to the family fortune, has her future entirely planned out. She will run the family estate until she marries the man of her late father's choosing, and then she will spend the rest of her days as a devoted wife. Confident in those arrangements, Lydia has tasked her young law clerk, Mr. Robert Newton, to begin drawing up the marriage contracts. Everything is going according to plan.

Until Lydia—and Robert along with her—is kidnapped. Someone is after her fortune and won't hesitate to destroy her reputation to get it. With Robert's help, Lydia strives to keep her family's good name intact and expose whoever is behind the devious plot. But as their investigation delves deeper and their affections for each other grow, Lydia starts to wonder whether her carefully planned future is in fact what she truly wants…
She quite enjoyed the intensity of the stranger's gaze whenever their eyes met, and her sudden shortness of breath was not in the least alarming.
Cindy Anstey's Duels & Deceptions is incredibly adorable, and that's not a word I really use to describe YA fiction. Not lately, anyway. I think this book suffered one of those cute, but wrong moment kind of reads. It also didn't have the same pacing that her first book had, so I didn't feel as swept away in the cute Regency romantic adventure of it all like I was with the first. However, it is incredibly rare to find a YA romance that's cute, fluffy, and ultimately free of sex? Like, it's exactly what you might expect from a fluffy romance – breathlessness, lingering glances, fluttery hearts, etcetera. I'm also a sucker for the slow burn stuff, and this is full of that longing.
Anstey plays with the idea of what's appropriate in Regency society, and most of the tension and drama in the novel comes from an incident in which Lydia and Robert are kidnapped. The two main characters are already aware of each other and already feel something toward each other but haven't quite figured out what that feeling might be. The story was a bit slow from the kidnapping until the final, somewhat predictable reveal of some bribery and of who arranged for the kidnapping, but it wasn't a terrible sort of slow. I think, like I mentioned before, I was expecting more of that constant feeling of adventure and excitement like I got from her other book to be present in this novel, especially with the word duels in the title!
If you like cute, fluffy historical romances and are in the mood for a few giggles, Duels & Deceptions might be right up your alley. I'll certainly be recommending it to readers who are ready to bridge from the children's section but aren't quite ready for the heavy-handed drama, tension, and sex often found in the pages of some YA romance!
A copy of this book was provided to me for review by the publisher and Netgalley. All opinions are my own.