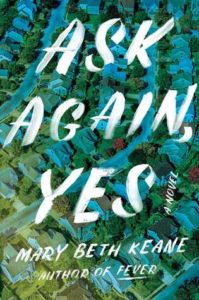 Title:

Ask Again, Yes

by Mary Beth Keane
Published by Scribner
Published: May 28th 2019
Genres: Fiction
Pages: 400
Format: Hardcover
Source: Publisher
Goodreads


A profoundly moving novel about two neighboring families in a suburban town, the friendship between their children, a tragedy that reverberates over four decades, and the power of forgiveness.

Francis Gleeson and Brian Stanhope are two NYPD rookies assigned to the same Bronx precinct in 1973. They aren't close friends on the job, but end up living next door to each other outside the city. What goes on behind closed doors in both houses—the loneliness of Francis's wife, Lena, and the instability of Brian's wife, Anne, sets the stage for the stunning events to come.

Ask Again, Yes by award-winning author Mary Beth Keane, is a beautifully moving exploration of the friendship and love that blossoms between Francis's youngest daughter, Kate, and Brian's son, Peter, who are born six months apart. In the spring of Kate and Peter's eighth grade year a violent event divides the neighbors, the Stanhopes are forced to move away, and the children are forbidden to have any further contact.

But Kate and Peter find a way back to each other, and their relationship is tested by the echoes from their past. Ask Again, Yes reveals how the events of childhood look different when reexamined from the distance of adulthood—villains lose their menace, and those who appeared innocent seem less so. Kate and Peter's love story is marked by tenderness, generosity, and grace.
Sometimes when I go into a book I just
know
it's going to be one of
those
hit books of the summer.
Ask Again, Yes
is such a compelling character portrait of what happens when the lives of two families are entwined and changed from the beginnings of their children's lives until the end.
Aside from the synopsis on the back and a little bit of early buzz from people I follow on social media, I didn't know what to expect when I started this, and there's a pivotal scene in the book that had me left in a little shock. I mean, I kind of knew it was coming, but the pacing of that scene was absolute perfection. The novel mostly follows what happened after in each of the character's lives, after the Gleesons and Stanhopes recover; through the rest of high school, college, and beyond for their children, Kate and Peter; and how one reconciles the past with the present and future.
Keane handles mental illness, everyday violence, and love, forgiveness, and hope found within these characters with profound tenderness and empathy. This isn't a sentimental novel, but it will certainly make you feel things throughout it all. Especially at the end.
Once I dug into this, I read it in about a day and a half. I had to know how things resolved, what happened to the characters, and to bask in the clear, fresh prose. If you enjoyed the tone of Celeste Ng's Little Fires Everywhere, consider this your next read.
Many thanks to Scribner for sending me a copy of this to review! All opinions are my own.