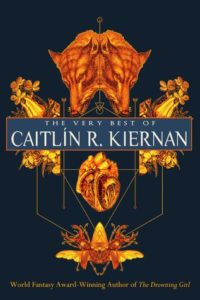 Title:

The Very Best of Caitlín R. Kiernan

by Caitlín R. Kiernan
Published by Tachyon Publications
Published: February 18th, 2019
Genres: Fiction
Pages: 432
Format: eBook
Source: Netgalley
Goodreads


"One of our essential writers of dark fiction."―New York Times

Caitlín R. Kiernan is widely acknowledged as one of dark fantasy and horror's most skilled and acclaimed short fiction writers. Here in this retrospective volume is her finest work, previously only collected in sold-out limited editions. Kiernan's tales are visceral, sensual, devastating, and impossible to resist: a reporter is goaded by her girlfriend into watching people morphing into terrifying art; a critic interviews an elderly model from a series of famous mermaid paintings; a moviegoer watches a banned arthouse film only to discover exactly why it has been banned.
When I read "The Maltese Unicorn" in
The Unicorn Anthology
, I wanted to read more of Caitlín R. Kiernan's work. Tachyon on Netgalley had
The Very Best of Caitlín R. Kiernan
up for download, so I loaded it onto my kindle and started reading a story or three. I was really captivated by a lot of her work because it's a little creepy, unsettling, and grotesque, but in a way that showcases truths that sometimes we're afraid to face or don't know how to face.
My favorite stories in the collection were as follows: "The Maltese Unicorn" (of course, because you really can't go wrong with lesbian unicorn noir), "A Child's Guide to Hollow Hills," "The Ammonite Violin," and "Hydrarguros". "The Ammonite Violin" has such a masterfully and terrific thrill to it that I read it twice. I knew the story was leading up to something, and the revelation was perfectly executed.
I had never read any of her work before her story in The Unicorn Anthology, and I think it's because I don't often dabble in the "horror" genre. I am hesitate to label Kiernan as "horror" in the traditional sense because so many of her stories were a quiet, creeping sort of horror rather than a shock and scare sort of thing that I generally tend to associate with "horror." Her work is more an examination of the human existence in all its forms, from light to dark, and I think this collection of her work shows the broad scope of her abilities.
Thank you to Tachyon Pub and Netgalley for a digital review copy! All opinions are my own.