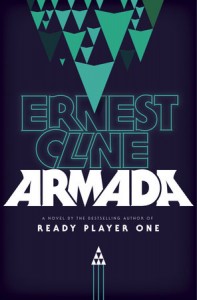 Title:

Armada

by Ernest Cline
Published by Crown Publishing
Published: July 14th 2015
Genres: Science Fiction
Pages: 349
Format: Hardcover
Source: Blogging for Books
Buy: Bookshop(afflilate link)
Goodreads


"Kill or be killed. Conquer or be conquered. Survive or go extinct."
Armada is an anomaly. On the surface, the book seems to be a good follow-up to Ready Player One. When I think about it more, though, the more I realize I didn't care about any of the characters in the book itself. I like having something and someone to care about. The pacing, the style, and the references are all great fun and incredibly engaging, but I felt as if there was a significant lack of depth in character development among all of the characters. Reading Armada was like reading a mashup of all of the great 80s video games and science fiction movies without having any substance or heft, like Cline's saying oh hey, look at all of these cool and sometimes obscure references I can throw in~~~ One can certainly write a novel with all of those cool references and still reveal some character development.
While I was reading it (and weirdly unable to put it down), all I could think about was: of course Zack Lightman is a video game wiz at this new/old-fangled Starfighter/Starcraft game, of course his dad's not dead, of course his parents hook up again before the big battle scene, of course his dad dies at the end, of course his mom has another kid. I would have liked to see more of a reaction from the characters, especially Zack, about the alien invasion and how it affected each of them, but it was all surface level revelations. And there was so much deus ex machina that could have been avoided by avoiding writing oneself into otherwise inescapable plot lines. The more I think about it, the more I would have liked to see things from the perspective of Zack's "manic pixie dream girl," a trope I am tired of seeing in fiction generally geared toward and advertised toward young male readership.
Reading it was like eating awesome candy. It's going to be gone in a moment, and you aren't going to get any value from it. Already, I feel as if Cline is writing himself into a very narrow niche. There is only so much one can do with 80s references before it becomes too repetitive and too trite. There is only so much one can do with these mashups before it becomes disengaging.
Cline, however, has a great writing style. I couldn't put Armada down. It was only after the fact that I was left feeling super disappointed. I want to see Cline's style and voice exploring other galaxies – original galaxies – and developing more rounded and believable characters in the future. I know he's capable of it. Ready Player One certainly showed it. I'll certainly read whatever Cline writes next. I just hope it has more depth.
I'd still recommend Armada to people, though, even if I came away from Ready Player One with high expectations. It's fun. It's accessible. It's a great summery, beachy science fiction read. I just wanted more.