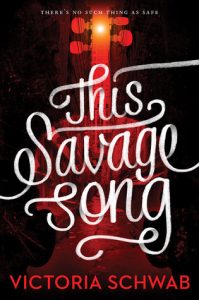 Title:

This Savage Song

by Victoria Schwab
Series: Monsters of Verity #1
Published by Greenwillow Books
Published: July 5th 2016
Genres: Young Adult, Fantasy
Pages: 427
Format: Hardcover
Source: Purchased
Goodreads


You wanted to feel alive, right? It doesn't matter if you're monster or human. Living hurts.
I really enjoyed this book. Victoria Schwab has quickly risen to be one of those authors that I'll auto-buy anything she writes. This Savage Song is set in a post-apocalyptic North America in which humans and monsters are separated by a literal divide. August and his siblings are monsters who use musical abilities to wreak havoc against their enemies, and Kate and her father are humans who are on the opposing side of monsters. August is sent across the border to get to know Kate, and instead of becoming enemies, the two become friends.
There are things I didn't really enjoy but I know, in the end, are acceptable and understandable in the grand scheme of the narrative. The first fifth of this book was a little slow for me (and I wondered if I was going to even like it, but then it got unputdownable) and Kate is very similar to other main female characters in Schwab's other novels (her snark seems almost forced and goes against her character for a bit of the novel). I think for a world that's unfamiliar it's good to have a little bit of a build-up with a slower beginning, and it's perfectly understandable to have a signature sort of character.
The idea of August's weapon music through his violin is amazing, and I can't wait to see how that develops in the sequel. I also really enjoyed that the two main characters weren't romantic in any way. I find that refreshing in the sense that so many books geared for YA audiences seem overly focused on romance instead of friendship, and friendship is a very important aspect of anyone's life. The horror aspect of the monsters gave me the shivers and added a depth to the terror rising throughout.
It's not an entirely new type of story in the world of YA fantasy, but it bends expectations and thrilled me while reading it, and it earns a solid recommendation from me.