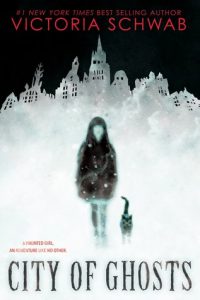 Title:

City of Ghosts

by Victoria Schwab
Series: Cassidy Blake #1
Published by Scholastic Press
Published: August 28th 2018
Genres: Fantasy, Middle Grade
Pages: 285
Format: Hardcover
Source: Purchased
Goodreads


Cassidy Blake's parents are The Inspectres, a (somewhat inept) ghost-hunting team. But Cass herself can REALLY see ghosts. In fact, her best friend, Jacob, just happens to be one.

When The Inspectres head to ultra-haunted Edinburgh, Scotland, for their new TV show, Cass—and Jacob—come along. In Scotland, Cass is surrounded by ghosts, not all of them friendly. Then she meets Lara, a girl who can also see the dead. But Lara tells Cassidy that as an In-betweener, their job is to send ghosts permanently beyond the Veil. Cass isn't sure about her new mission, but she does know the sinister Red Raven haunting the city doesn't belong in her world. Cassidy's powers will draw her into an epic fight that stretches through the worlds of the living and the dead, in order to save herself.
It comes as no surprise to anyone that Victoria Schwab is one of my favorite writers of all time. Her Shades of Magic trilogy is one of my all-time favorite fantasy series, and her YA fantasies — The Monsters of Verity duology and the Archived series — are complex and SO GOOD. When she announced
City of Ghosts
, I immediately preordered it and couldn't wait to have it in my hands.
City of Ghosts follows Cassidy Blake's and her parents' move to Edinburgh, Scotland, to begin filming a television show (The Inspectres) episode centered on the ghostly activities in old places within Edinburgh. Cassidy has a ghost-friend named Jacob and I loved their interactions, because there's a lot of spooky in Jacob's existence. I also want to know Jacob's history. How did he die? Why did he decide to choose to save Cassidy?? I also enjoyed Cassidy's friendship with Lara, and I hope to see that developed further in the future books in the series. I liked that Lara was a little bit of a foil for Cassidy in the sense that Lara is able to do some things that cause Cassidy to rethink her own abilities. I won't spoil anything for you, though!
I read a few pages of this one night, and then I sat down and finished the rest of it in a single sitting. This is just the right amount of scary for younger readers and was just enough spooky for me. In fact, it reminded me a lot thematically and atmospherically of Neil Gaiman's The Graveyard Book to the extent that I considered City of Ghosts to be a companion series of sorts! Both City of Ghosts and The Graveyard Book deal with thematic horror of growing up and facing the unknown as we "cross the border" between the innocence of childhood and the awareness and understanding of adulthood. It's in those in-between times that we really come to know ourselves and what we're capable of.
If you enjoy middle grade fantasy/horror and want to be chilled to the bone in similar ways after reading The Graveyard Book and Coraline, definitely pick this one up!