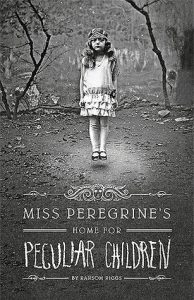 Title:

Miss Peregrine's Home for Peculiar Children

by Ransom Riggs
Series: Miss Peregrine's Peculiar Children #1
Published by Quirk
Published: June 7th 2011
Genres: Young Adult
Pages: 352
Format: Hardcover
Source: Purchased
Goodreads


A mysterious island. An abandoned orphanage. A strange collection of curious photographs.
A horrific family tragedy sets sixteen-year-old Jacob journeying to a remote island off the coast of Wales, where he discovers the crumbling ruins of Miss Peregrine's Home for Peculiar Children. As Jacob explores its abandoned bedrooms and hallways, it becomes clear that the children were more than just peculiar. They may have been dangerous. They may have been quarantined on a deserted island for good reason. And somehow—impossible though it seems—they may still be alive.
A spine-tingling fantasy illustrated with haunting vintage photography, Miss Peregrine's Home for Peculiar Children will delight adults, teens, and anyone who relishes an adventure in the shadows.
We cling to our fairy tales until the price for believing in them becomes too high.
Ransom Riggs' Miss Peregrine's Home For Peculiar Children is one of those odd books that I liked but also didn't like. It's difficult to explain, and the only thing I can come up with is that I like the premise and I like the atmosphere created, but I found the characters and a lot of the writing to fall flat. I couldn't put it down while I was reading it, but after I finished the book, I just felt sort of ehh.
It's pretty much a meh execution of a really excellent idea. I was expecting something scarier, but it wasn't all that scary. The writing most of the time felt juvenile, and I feel like I might have liked this book had it been shelved in the children's section rather than in Teen/YA. I have expectations of depth of writing when books are categorized in certain sections, and this being shelved in the YA section most of the time is misleading in terms of the depth of the story.
The best parts about this book are the weirdly manipulated photographs that add more to the story than just the words (which shouldn't be the case, but it is) and Miss Peregrine herself. I like the idea of time loops and that the children are stuck in them forever, and I wish that idea was developed a little bit more in this book (and maybe it is in the following books!).
I wish the book had a different narrator. Jacob seemed bland and boring, and I'm over the whiny rich boy narrators because I felt he had no depth and no change in character, but I do understand the bland character as a narrator as it allows the reader to self-insert and connect with the story more (which is not the greatest tactic in grabbing your reader's interest).
I may eventually pick up the rest of the series (or borrow them from the library) because while I enjoyed this story for what it was, the executed concept fell flat and didn't totally wow me enough to rush out and read the next two.