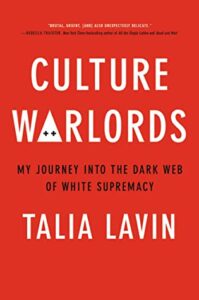 Title:

Culture Warlords: My Journey Into the Dark Web of White Supremacy

by Talia Lavin
Published by Hachette Books
Published: October 13th 2020
Genres: Cultural Studies, Non-Fiction
Pages: 288
Format: Hardcover
Source: Publisher
Buy: Bookshop(afflilate link)
Goodreads


A HARROWING JOURNEY INTO THE HEART OF WHITE SUPREMACY

Talia Lavin is every skinhead's worst nightmare: a loud and unapologetic Jewish woman, acerbic, smart, and profoundly antiracist, with the investigative chops to expose the tactics and ideologies of online hatemongers. Culture Warlords is the story of how Lavin, a frequent target of extremist trolls (including those at Fox News), dove into a byzantine online culture of hate and learned the intricacies of how white supremacy proliferates online.

Within these pages, she reveals the extremists hiding in plain sight online: Incels. White nationalists. White supremacists. National Socialists. Proud Boys. Christian extremists. In order to showcase them in their natural habitat, Talia assumes a range of identities, going undercover as a blonde Nazi babe, a forlorn incel, and a violent Aryan femme fatale. Along the way, she discovers a whites-only dating site geared toward racists looking for love, a disturbing extremist YouTube channel run by a fourteen-year-old girl with over 800,000 followers, the everyday heroes of the antifascist movement, and much more.

By combining compelling stories chock-full of catfishing and gate-crashing with her own in-depth, gut-wrenching research, she also turns the lens of anti-Semitism, racism, and white power back on itself in an attempt to dismantle and decimate the online hate movement from within. Shocking, humorous, and merciless in equal measure, Culture Warlords explores some of the vilest subcultures on the Web-and shows us how we can fight back.
Talia Lavin's
Culture
Warlords is a compelling, terrifying glimpse into white supremacy. This is by no means a complete examination of the many facets white supremacy reveals itself online and in our culture, but this is a good starting point and a good place to open up the conversation and personal research regarding why it feels like white supremacy has run rampantly unchecked lately.
I started reading this on the Friday after the attempted coup on January 6 because it felt like the right time to read it. I've always known white supremacy is deeply entwined in American history, but watching the events that unfolded last week brought it to the clearest forefront.
Lavin's research and deep dives into white supremacist communities online and off are harrowing, brave, and gutsy. I know I don't have the wherewithal to catfish on any level, so to me the levels she took this to are incredible. She risked so much going undercover to expose these internet communities, and I can't even begin to imagine the emotional toll this endeavor has had on her.
One of the things I found most interesting about this is her exploration of the internet being a strikingly new tool at radicalization. It's only in the last thirty or forty years that we as a planet have had the capabilities to share thoughts and information like this, and the more our society moves online to communicate, the more opportunities there are for unchecked, unmoderated spaces for white supremacist groups to connect.
I couldn't put Culture Warlords down, and I finished it within a few hours of starting it. This is a necessary read, and it's a necessary conversation opener.
Many thanks to Hachette Books for sending a complimentary review copy my way!